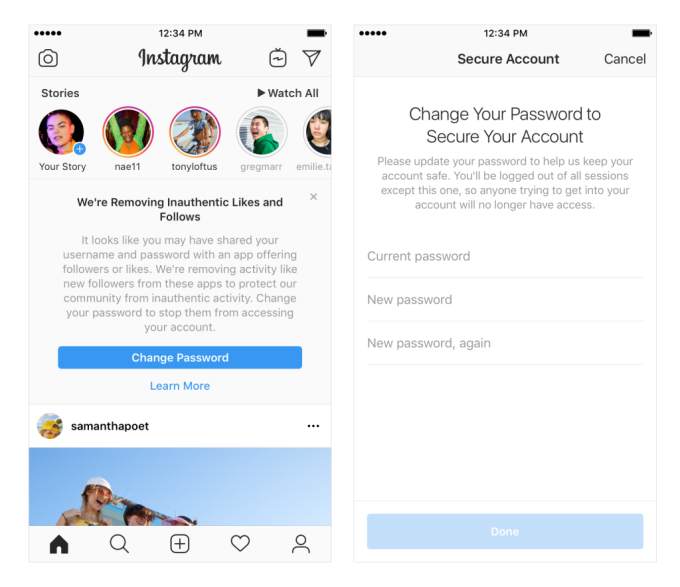 Instagram is battling automated apps people use to leave spammy comments or follow then unfollow others in hopes of growing their audience.
The social media company is removing from people's accounts who use these apps inauthentic follows, Likes and comments that violate its policies; sending them a warning to change their password to cut ties with these apps, and saying people who continue using these apps "may see their Instagram experience impacted."
Instagram is also hoping to discourage users from ever giving another company the login details to their accounts as this can lead to them being hacked or having their account used to send spam.
Since at least 2014, Instagram has been taking down fake accounts but this is the first time it's publicly discussed removing fake likes from posts.
It now says "We've built machine learning tools to help identify accounts that use [third-party apps for boosting followers] and remove the inauthentic activity."
According to Techcrunch, some of the most popular bot apps for growing followers like Instagress and Social Growth have been shut down, but others like Archie, InstarocketProX and Boostio charge $10 to $45 per month. They often claim not to violate Instagram's policies, though they do. The New York Times this year found many well-known celebrities had stooped to buying fake Twitter followers from a company called Devumi.
InstarocketProX advertises how it takes control of your account to like and follow people to dupe them into following back
Users typically have to provide their username and password to these services, which then take control of their accounts and automatically Like, comment on and follow accounts associated with desired hashtags to dupe them into following the unscrupulous user back.
The spam app users will now get scolded by Instagram, which will send "an in-app message alerting them that we have removed the inauthentic likes, follows and comments given by their account to others" and be told to change their passwords.