Are you a Nigerian or interested in Nigerian politics? Mark these dates on your calendar: 11th March & 18th March 2011. NN24, a 24-hour news channel in Nigeria, is organizing Nigeria's first Presidential debate ahead of April elections. The debate hitherto scheduled for tonight was postponed since President Jonathan's campaign team insisted on having questions ahead and not taking questions from the studio audience.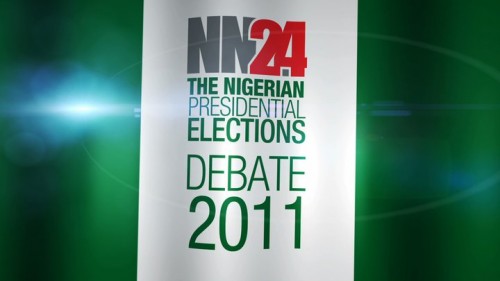 The Vice Presidential candidates' debate would take place on 11th March 2011 (6pm local time) at Hilton Hotel in Abuja (attendance strictly by invitation) and would be broadcast live on NN24 and some other 30 channels. The Presidential candidates would face each other on 18th March 2011 at the some time and location.
The participating Presidential candidates are: President Goodluck Jonathan (People's Democratic Party); Mallam Nuhu Ribadu (Action Congress of Nigeria); Gen. Muhammadu Buhari (Congress for Progressive Change); and Mallam Ibrahim Shekarau (All Nigeria Peoples Party).
THE PRESIDENTIAL DEBATE IS ON!
Please send your QUESTIONS, COMMENTS AND OPINIONS TO 33321. KEYWORD IS 'POST'. START YOUR MESSAGE WITH 'POST' SPACE AND THEN YOUR COMMENT e.g Post What can be done to solve the Nigerian electric power problem?
NN24 is available in Nigeria and the rest of Africa on DStv channel 414.