I suspect there has been a lot of rank dancing at Afrigator.com lately. I have noticed that the rankings of Africa's top blogs have been shifting radically in recent times. Is it possible that they have improved the algorithm behind their ranking of Africa's top blogs? One of the outcome is that as of now, my blog – Oluniyi David Ajao – has been pushed for number 21 down to 69, in the Africa ranking. On the other hand, yours truly has risen to the No.1 spot under Ghana.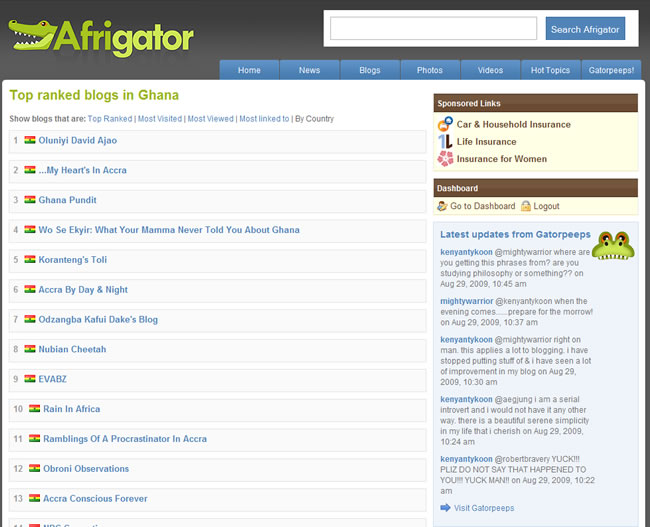 I have been eyeing that top spot for some time now; I am not ashamed to admit that. I ask myself, why would someone who left Ghana long ago take the top spot at Afrigator? Okay, his heart's in Accra, but my heart and body is in Accra. 😉 This served as a motivation to work harder/smarter at making my blog better. Before now, my blog had sat at the number 2 spot since the beginning of Afrigator's lifespan.
Afrigator is a social media aggregator and directory built especially for African digital citizens who publish and consume content on the Web.
Afrigator stats in context
Afrigator.com as of today, is the only authority on African blog rankings because it is truly pan-African and is the most comprehensive social media aggregator in Africa; therefore, their official ranking carry enormous weight. However, there are a few points to note:
Optional listing: Not every African blog is enlisted on Afrigator. Listing is done by blog owners who know about it and care enough to join.
Tracking code: Not every enlisted blog embeds the Afrigator tracking code into their blog. The tracking code is necessary as it gathers data that goes into calculating how popular or otherwise a blog is. Blogs not using the code thus cannot be ranked accurately.
Country listing: Some blogs are not listed under specific African countries because their content is  predominantly pan-African. Thus, it is possible that there are more popular blogs about Ghana for example, that happen to have been listed under "Africa General".
Factors considered in ranking blogs on Afrigator are:
Most Visited – this examines how often a blog is visited
Most Viewed – this factors the number of page views a blog receives within a period of time
Most Linked – this checks the number of post links a blog receives from other blogs within the Afrigator network
A closer look at the Afrigator stats reveals that at the time of writing, there are 152 blogs listed under Ghana. I would do an in-depth analysis of the African blogosphere, in future. For now, cheers!
What are your thoughts about Afrigator? Feel free to discuss your opinion on the Afrigator rankings.