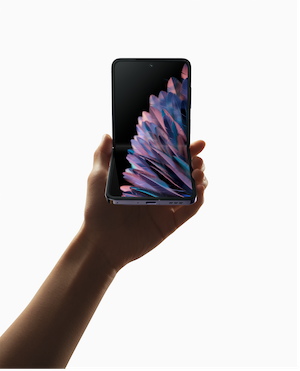 OPPO has announced the launch of its Find N2 Flip, the brand's first foldable device available in South Africa. The Find N2 Flip, which aims to set a new standard for cutting-edge smartphone innovation in 2023, is also the first Find series to be launched in the country.
OPPO has spent over four years experimenting with six prototypes of foldable phones, focusing on style and functionality. The Find N2 Flip, a premium foldable device, combines a stylish design with the largest cover screen on any current flip phone. It also proved its durability, lasting for over 400,000 times in folding tests.
The Find N2 Flip features a generously-sized portrait-mode cover screen and a thin, small, and strong hinge that can hold angles between 45 and 100 degrees. It also boasts a FlexForm Mode, which allows the phone to stand on its own like a tripod, making it ideal for content creators.
The device has an impressive camera system co-developed with Hasselblad Camera for natural colour calibration and dual preview. It includes a 50MP main camera, an 8MP ultra-wide camera, and a 32MP selfie camera with autofocus.
Equipped with a 4,300mAh battery and 44W SUPERVOOC fast charging, the Find N2 Flip offers a long battery life and faster charging times. The device also includes multitasking features, enabling users to reply to messages, adjust settings, and answer calls without opening the phone's main screen.
The foldable smartphone trend has been growing in recent years, with IDC predicting foldable phones will account for 1.8% of the overall smartphone market by 2025. OPPO aims to lead the way in smartphone innovation with the Find N2 Flip, available at all network providers for R1199.00 for the 8GB RAM and 256GB storage model.