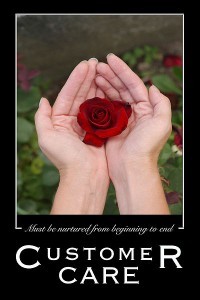 This is to comment on a popular misconception and start a debate about the issue as well. I grew up hearing a "the customer is always right" cliché. It never made sense to me and still doesn't. Why?
Simple logic tells me that a customer cannot be right all the time. A customer is human. A human being is never always right. Never. Not the Pope in the Vatican nor the President of the United States. A customer is human with flesh and blood and has emotions. Human action/judgement are often clouded by emotion and prejudice. It is only natural that a customer makes wrong choices but corrective action should always be taken by the service provider irrespective of who is at fault.
I understand this cliché started as part of training for customer service representatives for them to put out their best but for how long can people parrot this absolutely illogical nonsense? To say the customer is always right is to assume that the customer would be reasonable, polite, rational, honest at all times. Is this possible?
Alexander Kjerulf, the author of the book Happy Hour is 9 to 5, has this to say about the customer is always right.
It gives abrasive customers an unfair advantage

Using the slogan "The customer is always right" abusive customers can demand just about anything – they're right by definition, aren't they? This makes the employees' job that much harder, when trying to rein them in.

Also, it means that abusive people get better treatment and conditions than nice people. That always seemed wrong to me, and it makes much more sense to be nice to the nice customers to keep them coming back.
Do not misunderstand me. I fully understand the need to offer the best customer service but that is only to the extent of how the customer handles him/herself. Is the customer KING? By all means. The customer is the reason why a business exists. Is the customer always right? A loud NO.
I am deliberately keeping out specific experiences handling customers but feel free to garnish your contribution to this debate, with specific examples.