I had the priviledge of watching the latest & hottest Ghanaian movie in town yesterday afternoon at the Silverbird Cinema in Accra. Several hours later, I am still catching my breath. The first time I read about this movie via a friend on Facebook, I wondered to myself: "What audacity? How could anyone risk titling a movie THE PERFECT PICTURE?" The producers of the movie by using a title like that are opening their work to thorough scrutiny from the public and would receive heavy criticism should the movie contain the slightest shade of mediocrity.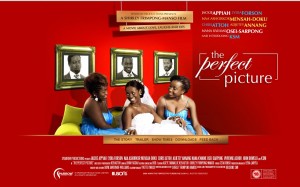 I had high expectations before watching the movie. Why? There was a special website for the movie: http://theperfectpicturemovie.com Now, this is uncommon in Africa, and very rare in Ghana. What's more? The website theperfectpicturemovie.com was just perfect for a movie. Well designed. I later monitored the trailer on GTV and some promo video at KSM's Thank God It's Friday on Metro TV.
Just last Friday, KSM (aka Kweku Sintim-Misa) featured the Director/Producer of the movie, Shirley Frimpong-Manso. They chatted heartily about the very positive feedback they had received by then. I knew the movie had to be very good. It became a must-see for me and I was not disappointed.
The opening montage was just very nice. It featured a lady on her wedding day, surrounded by friends and family. This leads the viewer into what the entire movie is about: the love life of 3 beautiful, privileged, middle-class young ladies. The movie delves into love, sex, romance, deceit, pain, anxiety, addiction and many other related facets of human existence. It is relatively full of suspense (though I could predict a few scenes) and obviously, every scene was well thought through.
I found some scenes especially captivating:
two lovers expressing affection verbally, and kissing with the glowing moon in the background
an ex-husband professing love to his ex-wife at a beachside. 3 canoes are seen drifting gently beside them
the fast-paced scenes featuring various parts of Accra
the various dance steps in the scenes featuring Ghanaian music
The movie does well in the "audio department" as well. Crystal clear sound, very good selection of background music, and good humour here and there.
THE PERFECT PICTURE features Jackie Appiah, Lydia Forson, Naa Ashorkor Mensah-Doku, Chris Attoh, Adjetey Annang, Nana Kwame, Osei-Sarpong and the King of comedy in Ghana, KSM!
Overall, I would dare to rate the movie 9/10. Why? I won't explain now without divulging too much. You should see the movie yourself. It would soon be screened in other parts of Ghana, and probably in Nigeria, the UK, USA etc. It is coming to a cinema near you and when it does, don't miss the chance to enjoy it. It was worth every pesewa I paid for the ticket. More so, I believe it would be released on DVD soon enough. In the meantime, enjoy the official trailer.
Good work Shirley Frimpong-Manso and your team at Sparrow Productions. Keep the Ghanaian flag flying. I hope you become very rich from producing this movie and release even better flicks in future.
10 July 2020 update: a sequel has since been released and is now available on Netflix.