The NN24 Vice Presidential election debate was recorded last Friday evening. Though scheduled to be aired live, it was only broadcast from Saturday and repeated several times ever since.
The People's Democratic Party (PDP) Vice Presidential candidate Mohammad Namadi Sambo was absent. The organisers deliberately left the 4th stand empty, emphasising his absence.
The debate went on smoothly with the moderator throwing varying questions at the candidates: from religion to the economy. One would have wished the candidates had a little more time to explain their points. Notwithstanding, the candidates gave a good account of themselves.
The debate was very useful as it offered a lot of information about the personality of these candidates. I got to know them much better and can make even a more informed decision.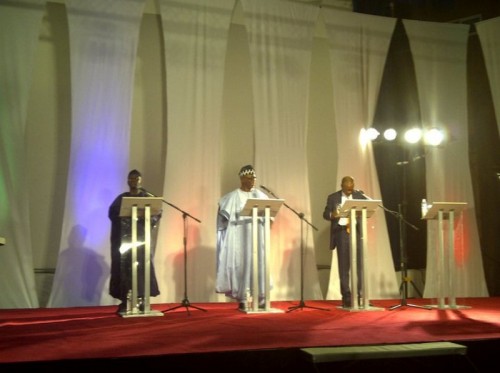 Tunde Bakare
This candidate came to my attention when he joined thousands of Nigerians to march on the streets of Abuja, demanding that the legal procedure be followed when then-President Umaru Yar'Adua was on admission in a Saudi hospital. Under the auspices of Save Nigeria Group, they marched on the National Assembly demanding better governance from those in power.
He is the Vice Presidential candidate for Congress for Progressive Change (CPC) while Mohammad Buhari is their Presidential candidate.
Fola Adeola
Bluntly, I knew nothing about this gentleman until Nuhu Ribadu selected him "in consultation with elders of ANC", to join their Presidential ticket as running-mate. I was so impressed my his coherence and intelligence that I searched for more information about him online. It turns out he is a world-class entrepreneur among other things, and is the founder of GTBank (of the leading banks in Nigeria today). His personal website is at www.folaadeola.org
John Odigie-Oyegun
The Vice President candidate of All Nigeria People's Party (ANPP) ensued the virtues of his party's presidential candidate Ibrahim Shekarau. Since little is known about ANPP's candidate on the national scene, the debate presented a good opportunity for them.
PDP's absence portrayed the debate as an anti-PDP forum. And why not? PDP has run the Federal Government of Nigeria for 12 years, and has not given a good account of itself. Each candidates took turns to criticize PDP.
Of course, all three candidates claimed their respective parties was the best and most competent to pull Nigeria out of the big mess the country is currently in.
The NN24 Presidential Debate is scheduled for this Friday 18th March and one can only hope NN24 airs it live. It also helps if they went into an active collaboration with terrestrial TV stations, especially ones that have transmitters across Nigeria. Only a tiny percentage of Nigerians have access to DStv.