The 2012 edition of Consumer Electronics Show in Las Vegas USA did not disappoint. Being the biggest platform for tech companies to show-off their latest innovations, a lot of new tablets (mostly running the Android OS) were among the announced.
I have followed the news reports and one tablet that stood-out of the crowd was Toshiba's Excite x10. It is exciting.
From PC World:
This 10.1-inch tablet distinguishes itself as the only model that can be called both the thinnest and lightest: It measures just 0.3-inches thick and weighs 1.18 pounds. It has a Texas Instruments 1.2-GHz OMAP 4430 multicore processor, 1GB of memory, and a 1280-by-800 resolution IPS display. The display looked good, with a minimal air-gap and a wide viewing angle; but text and graphics weren't as sharp as on the higher-resolution displays. Toshiba hopes to be able to ship the tablet in the middle of the first quarter with Android 4.0 Ice Cream Sandwich. Toshiba says it will cost $530 for the 16GB model and $600 for the 32GB version.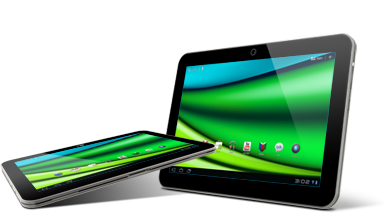 Other features include:
0.3″ thin
1.2lbs
10.1" AutoBrite™ Multi-touch Display
Scratch-resistant Corning® Gorilla® Glass
Powered by Android™
Dual-core processor
Micro HDMI® port
Micro USB port
Micro SD Card Slot
Stereo Speakers
Two HD Cameras
Be aware that the device does not support 3G nor any cellular connectivity. Instead, connectivity is via wifi only.