It has been a long and windy journey of self-discovery; a journey of networking and opportunities. Come 1st November 2010, this personal blog would have been up-and-running for 5 years. I dare say, it has been a relative success.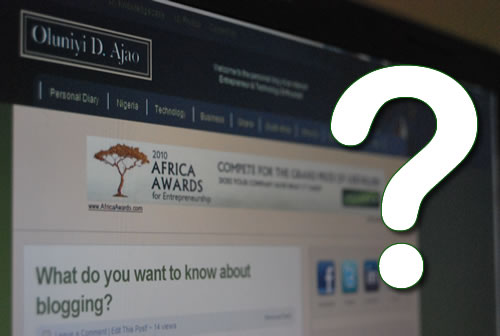 I would be publishing a grand blog post on the anniversary date, that would offer some insight into the journey so far. It would not only delve into the things I have done right, but also share some of my regrets. It is something you really want to lookout for.
To make that day's publication even more meaningful, I am giving you the opportunity to ask questions on issues you have always wanted to know, about blogging. It could be generic in nature or specific to my experience. I would split the day's post into multiple parts, should that become necessary. I intend to address as many questions and suggestions as possible. So send/post yours now.
How to ask your probing blogging questions
The preferable mode of throwing your questions at me would be through the comments section of this blog post. If you prefer some anonymity, feel free to email me directly by making use of the contact page on this website.
Until then, cheers to many more exciting years of meaningful blogging.