I recently had a short interview with Chris-Vincent, founder of Africadiscuss.com, an all african forum aimed at providing a platform for Africans and those of interest in Africa to discuss issues of common concern. Enjoy.
Chris-Vincent: I am Chris-Vincent a law student at the University of East London in the UK. I am a Ghanaian and a full time blogger. I am also the founder of ghanacelebrities.com and now trying to push nigerianshowbiz.com and africadiscuss.com. I am a freelance self-taught web designer with a few clients. After finishing law school next year, I am considering moving to Africa.
So have down the intro of myself …now shoot the questions.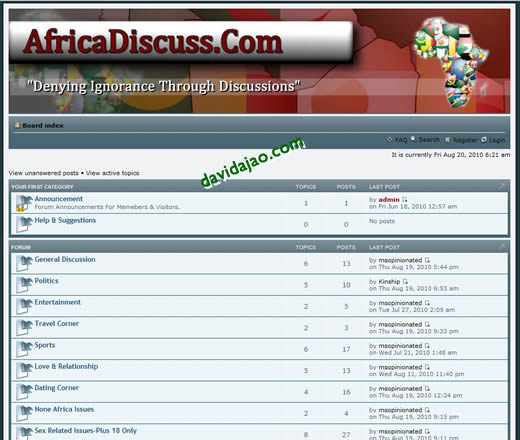 Oluniyi: What was the motive behind setting-up africadiscuss.com?
Chris-Vincent: It came out from the belief I have about the benefits of discussions. I believe through discussions we can deny ignorance by sharing info, thoughts and ideas. I realized there is no one platform aimed at bringing all Africans under one umbrella to discuss issues affecting us within Africa and those exerted on us from external powers. The motive is to provide a platform where all Africans can share their views on issues itching them.
Oluniyi: I am sure you realise that there are thousands of discussion forums focused on Africa in general, or on specific African countries. How does your new website aim to be different?
Chris-Vincent: It is true that there are lots of forum out there for specific African countries and even those who seek to target the entire Africa. My research prior to setting up Africadiscuss.Com taught me that, collectively as Africans we form a big force and voice and as such individual countries paddling their own canoes (country by country forums) do not carry the vibrant and powerful force that a collective all Africa forum would bring.
Also, the existing forums which seek to be that of all-African platform or board have really not live up to their all African inclusion. They are still paddling along country lines… Collective force is great but not easy to mobilize. Most of the all African portrayed forums have not been able to mobilize on collective force hence the vibrancy of their existence is been shaded away. Africadiscuss.com is riding on what they have failed to do to fetch them the powerful voice and that is what makes us different…the idea of collective voice to push a common goal.
Oluniyi: What themes would africadiscuss.com be focusing on?
Chris-Vincent: it would inter alia be focusing on the majority of issues affecting the everyday life of the ordinary African, notably politics (the fountainhead of our success and failure), education, entertainment, relationship, religion (the fountainhead of our morals), sports …
Oluniyi: Are there any areas you would not cover?
Chris-Vincent: We are looking to cover all the major areas of effects to Africans..we would add up new areas with time as and when they become issues of common concern or to discussed.
Oluniyi: Africa is a huge continent containing 53 countries. Do you have enough resources to tackle this gigantic task?
Chris-Vincent: That is a good question. Resource is always limited but managing 53 countries under a single umbrella or platform cuts down the resources needed to manage each country separately or a board for each country. We are at this point seeking for people who see a course in our objectives to set in and throw any little weight behind us. Currently we have managed to get the biggest entertainment focused online tabloid/ site (ghanacelebrities.com) to partner with us in promoting the forum and provide little resource to cater for hosting and others. We are still running around to get most of the African online media and blogs to chip in their little by promoting and creating awareness for Africadiscuss.com
Oluniyi: Where do you see africadiscuss.com in 5 years' time?
Chris-Vincent: To become if not the biggest online free speech platform for all Africans and those with interest in discussing African issues , then one of the biggest in Africa.
Oluniyi: Thanks for your time, Chris and I wish you all the best with africadiscuss.com and other endeavours.
Chris-Vincent: Thanks a lot too. It's been nice talking to you.