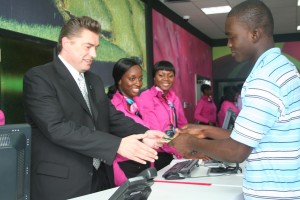 I listened to Philip Sowah, the Country Manager of Zain Communications Ghana Limited, being interviewed on Joy FM's Super Morning show one morning in the last quarter of 2008. It was at the eve of Zain's network launch in Ghana. One thing I remember clearly was him saying Zain Ghana has so much network capacity, they are scared in a positive way. I wondered to myself: "What is he talking about? Why this much confidence? Is this a marketing gimmick?"  Zain eventually launched and I bought a Zain SIM card, just to experience Ghana's first 3.5G network not that I was ready to ditch my MTN that had served me quite well for more than 5 years.
I recently bought a Nokia 5800 XpressMusic – a 3.5G high-capacity multimedia device from Alireta Mobile – and decided to give my Zain SIM a spin with the mind that should it serve me better, it would replace my MTN eventually. I have been blown away in the past few days and thus I feel compelled to document the positive difference I have experienced.
For well over a decade, MTN (hitherto known as Spacefon, then Areeba) has been the market leader in Ghana in terms of running the most sophisticated cellular network, and offering more useful value added services than its competitors. Not anymore. For the first time, MTN has a tougher competitor to contend with.
3.5G network coverage
MTN Ghana scrambled to unleash their 3.5G network on the Ghanaian airwaves after Zain's loud entry into the telecom market. Zain's 3.5G network has a wider coverage than that of MTN, in Accra. I have tested the two from Tete Quarshie interchange to McCarthy hill. From McCarthy hill to Osu. Zain even went a step further to publish their 3.5G network coverage on their website and the publication reveals that 3.5G is available in much of Accra and parts of Kumasi (Ghana's 2nd commercial hub). Whilst at work, I make sure my phone is permanently on 3G network mode so I can experience the superior call quality and make/receive video calls on Zain. Neither of them has a perfect 3.5G coverage but Zain is ahead, from my checks.
Mobile Internet 'Activation Fee'
Unlike MTN, Zain does not ask for a 5 Ghana Cedi "activation fee" for internet connectivity to be enabled on one's SIM. Slot your Zain SIM into a capable GPRS/EDGE/3G/3.5G phone and the settings come tumbling in within minutes. Zain even sends you an MMS welcoming you to "A Wonderful World".
Call cost summary
I was pleasantly surprised to discover that I get the total cost of a call I make, after the call is over. A message displays on my phone informing me of the amount deducted from my account for that call and the account balance I have left. Now, that is transperancy at its best. There is nothing like that on MTN.
SMS
I can update my Twitter account via SMS using Zain. MTN could not deliver SMS to the UK mobile number used by Twitter.com
Zain delivered to the same number, in 2 seconds.
I do not have to retry sending SMS multiple times and pray it goes through each time, on Zain. On the other hand, the little tricks I used on MTN are even begining to fail as I have a hard time sending international SMS from MTN.
Still on SMS, Zain has a neat online service called Zain Web2SMS. I can compose and send SMS from Zain's website with the added convenience of typing on a computer keyboard. It is faster and better for me. Zain bills my prepaid account for each SMS sent. What is more exciting? Zain offers 5 free Zain to Zain SMS daily. MTN hardly ever gives anything for free. Hardly.
MMS
Zain's MMS really works. I can zap photos and audio to loved ones' phones or email accounts. MTN's MMS has been epileptic for months now.
Missed call notification
Whenever my phone is switched off or out of cellular coverage area, I receive SMS notification from Zain when my phone is back online, informing me of the missed calls. I know MTN has been offering the same service for several years but I could not access it because they restricted it to post-paid subscribers only. I had been attracted to MTN's post-paid offering for so long but I stayed away because of the $1,500 security deposit they required for international roaming. I am fine with prepaid roaming – thank you very much. I would rather leave my money in a fixed deposit account than hand it to MTN if I have no use for it.
Roaming
Talking about roaming, MTN quickly launched their "Seamless Roaming" service some weeks before Zain launched in Ghana. MTN's Seamless Roaming is a very similar concept to Zain's One Network. They both allow local subscribers to access the network of other subsidiaries, outside the home network. Example: Zain subscribers in Kenya can roam into the Zain networks in Tanzania, Uganda, Sierra Leone, Nigeria, Niger without hassles. Traveling subscribers can receive calls/SMS for free, and make calls at the same rate subscribers on the host network pay. MTN's Seamless Roaming currently works in Cameroon, Nigeria, Benin Republic and Ghana.
Call Divert
You have no idea how useful this service is to me. I can divert calls all my calls unconditionally, or if I am busy, or if I do not answer the calls within a stipulated number of seconds, or if I am out of network coverage area. These settings come with even the most basic GSM phone but MTN has restricted its prepaid subscribers to "Call divert – if out of reach" and even that can only be diverted to their default Voicemail number only. On Zain, there is no single restriction and so I can divert my calls as I deem fit!
Zain Phone number Pre-registration
I was able to search for and book a phone number of my choice, even before the commercial launch. MTN doesn't offer that convenience.
Over all, I am enjoying the Zain experience so far. What about you? What has been your experience with Zain in Ghana? Share your thoughts by leaving your comments now.