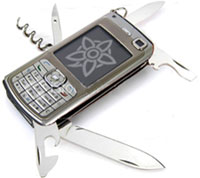 ForgetMeNot Africa launches Message Optimiser bringing email and instant messaging to simple mobile phones without need for PC or Internet across Africa
London, 24 March 2009: ForgetMeNot Africa, a specialist in unified messaging for telecommunications operators, has announced that it is launching its Message Optimiser service throughout Africa.  The service will be publically demonstrated for the first time in Africa at East Africa Com on the 1st and 2nd of April in Nairobi, Kenya.
In November 2008 LonZim plc acquired a controlling interest in FMN Africa. LonZim has established a strong presence in both the communications sector and financial services technology in the region, through its investments in Celsys, and Paynet, both of which offer strong synergies with FMNAfrica and further opportunities to enhance LonZim's portfolio of investments.
Message Optimiser (MO) allows carriers to immediately provide cost-effective comprehensive unified messaging services (email, instant messaging (IM) and SMS) without the end user requiring any Internet access, device upgrades, or application downloads.
With an implementation cycle of a matter of weeks, carriers can quickly enjoy additional revenue streams, monetizing channels previously unavailable to them, and offering a unique differentiator point; an array of value-added messaging services to their entire customer base.  Since it does not require a data contract, Message Optimiser allows operators to increase ARPU and reduce churn amongst its pre-pay customers.
End-users benefit from the simplicity of ForgetMeNot's Handset Initiation technology, which turns even the most basic mobile phone into a "smarter" Internet-capable, multi-channel messaging device, instantly providing two-way email and two-way instant messaging for both pre-pay and post-pay users alike.  Handset Initiation technology is becoming vital not only for developing nations where PC and Internet access is very low but also allows users globally to have access to email and instant messaging without the need for more expensive smartphones, a PC or Internet connection.
Jeremy George, Chief Operating Officer of ForgetMeNot Africa comments: "In today's maturing mobile markets, mobile operators are increasingly focused on customer retention and service differentiation.  Message Optimiser meets both needs offering a new revenue stream from their existing subscriber base while offering customers a unique service".
About ForgetMeNot Africa
ForgetMeNot Africa Ltd. is a "software as a service" (SaaS) company specialising in Unified Messaging that supports seamless interoperability between SMS, email and Instant Messaging clients for telecommunications operators.  The core product is Message Optimiser which allows telecom operators to immediately provide cost effective comprehensive unified messaging services to all of their customers without any upgrades to the device or any need for downloading new applications onto the device. This opens up a range of previously inaccessible services to many of their customers including 2-way email and 2-way instant messaging communication capability. ForgetMeNot Africa is a division of ForgetMeNot Software Limited, based in Hong Kong with operations in London and Los Angeles which recently sold a controlling interest in its former wholly owned subsidiary FMN Africa to LonZim plc.