I am starting my commentary by stating in very clear terms that I wish the President Umura Musa Yar'Adua well. I really do. I had stated my confidence in him in the past. However, I cannot fool myself or cloud my sense of judgement with emotion. Umaru Yar'Adua, in my view, is no longer fit (has he ever been?) to be the President of the Federal Republic of Nigeria – on account of his poor health. He needs to resign now when it is still honourable to do so.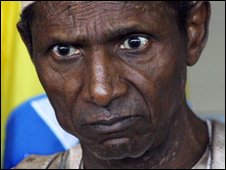 I speak for myself and many other Nigerians when I say we are becoming increasingly impatient with the frequent trips abroad for medical treatment. Isn't it a shame that after over 2 years in office, his government has not deemed it fit to upgrade at least one hospital in Nigeria to a point where that hospital can meet all his medical needs and be available to other Nigerians? Is it possible that there are hospitals that can meet his medical needs but his government wants to hide the true state of his health and thus prefers to secretly treat him abroad? Why did his government take so long to publicly state his ailment?
Just yesterday, the Federal Executive Council issued a statement which read in part:
"Council, having reviewed all the facts on ground, unanimously resolved that there is no basis for the invocation of provisions of Section 144 of the Constitution, for the reason that the President has not been found incapable of discharging his functions.

"Council wishes to inform all Nigerians that all organs of government are functioning, and that government will continue to deliver."
To put their statement in context, these are people nominated by the President, and approved by the Legislature. Their statement should therefore be seen as an effort to protect their cushy jobs & fat allowances, and not necessarily an accurate representation of the unfolding events.
BBC News paints a clearer picture:
Mr Yar'Adua has acute pericarditis, or inflammation of the lining around the heart, his spokesman told the BBC.
…
Mr Yar'Adua has had a chronic kidney condition for at least 10 years.
He has been unable to perform a number of official duties because of recurring health problems.
How does a man who has problems with two critical organs – his heart and kidney – insist on leading a nation of over 150 million strong-headed people? Nigeria is at a critical phase of catching-up after decades of slow development and needs a honest & strong able-bodied leader not one that is flown-out so frequently on medical grounds. We have wasted enough time for each time the nation is put on hold whilst he flies to Germany and Saudi Arabia in pursuit of his medical redemption.
I hope the government of Nigeria would take a cue from Fidel Castro and develop Nigeria's medical facilities to world-class standards instead of spending foreign exchange on medical trips abroad. When Fidel Castro became gravely ill, he re-signed. Due to the fact that he had developed the medical facilities in his country during his decades of strong rule, there was no need to fly him out of Cuba. He was treated by Cuban doctors and is recuperating in his own country.
Whilst wishing him a speedy and full recovery, I wish to emphasise that he considers the best interest of himself and his immediate family by quit carrying the burden of Nigeria.
What are your views? Should President Umaru Musa Yar'Adua resign on the grounds of ill-health? Are the clamour for his resignation justified or hyped? Please share your thoughts in the comments area.