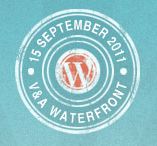 WordCamp is a conference that focuses on everything WordPress. There have been dozens of such events around the globe in the past, and there will be WordCamps for as long as WordPress continues to exist in its current shape and form.
WordCamp Cape Town has been scheduled for 15th September 2011 and will serve as a platform for discussing the latest trends in WordPress, targeting developers and publishers alike.
The event fee is only R135 (about $20). Considering the venue is a limited space, it's a good idea to register and make travel arrangements early.
Visit WordCamp Cape Town to read more, and register today.