A new blog aggregator for blogs related to Nigeria, has been unveiled at http://bloggers.com.ng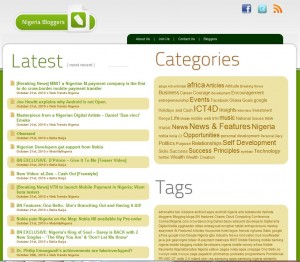 The Nigerian blogosphere is easily one of the most vibrant on the African continent. Though figures are hard to come by,  a conservative estimate would put the number of Nigerian blogs at about 2,000. Following the thousands of blogs related to Nigerian would be a herculean task. Thus, there is a need to aggregate these voices and have an overview of the important blog headlines.
Though a few Nigerian blog aggregators have existed in the past, none of them have survived till date. This new aggregator with a mission to serve the Nigerian blogging community would fill the gap and more offer even more interesting features:
the aggregator is update hourly
the homepage shares the latest blog headlines
the homepage offers clouds of categories and tags, thereby giving an overview of the popular blog topics
author page: shares a brief profile of the blog authors, their latest tweets as well as links to their respective social media networks
a Bloggers page lists all the blog authors and randomly features one of them at the top of the page
Existing blogs related to Nigeria can be submitted for listing via the "Join Us" page on the aggregator.
The aggregator would be updated with new features where necessary, as time goes by.
About Web4Africa
Web4Africa is a leading web design & web hosting company in West Africa and is based in Accra, Ghana.
https://web4africa.com