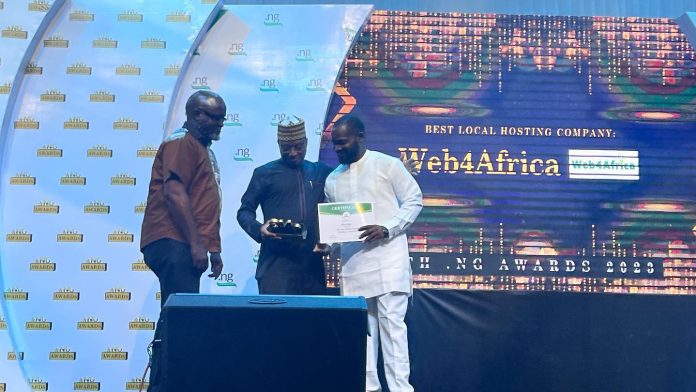 In a momentous achievement, Web4Africa, a leading web hosting company, has been crowned the "Best Local Hosting Company" at the prestigious 2023 .NG Awards. Established in 2002, Web4Africa has continually demonstrated excellence in offering a wide range of hosting services, including Web Hosting, WordPress Hosting, Virtual Servers, and Dedicated Servers, catering to a diverse clientele in Nigeria and globally. This accolade further cements their position as a formidable player in the internet hosting arena.
The .NG Awards, now in their 6th edition, is a hallmark of excellence organized by the Nigeria Internet Registration Association (NiRA). NiRA, a stakeholder-driven organization, manages and maintains the .ng domain – Nigeria's vital national online identity. These awards are part of NiRA's broader mission to foster growth in .ng domain name registrations and advance Nigeria's Domain Name System (DNS) industry.
This year's awards, held on Friday, November 17th 2023, are exceptional as they mark the continuation of an esteemed tradition that began during NiRA's 10th Anniversary in 2016. The 2023 edition of the .NG Awards celebrates the outstanding contributions made by individuals, organizations, and the public towards the growth and promotion of the .ng domain name, recognizing innovation and achievements within the Nigerian internet landscape.
NiRA's commitment to a transparent and unbiased process is noteworthy. The organization neither assigns a monetary value to the awards nor imposes fees for nominations or selections. Furthermore, the .NG Awards are not influenced by sponsorships or donations, ensuring a fair and open process. Public involvement is integral, with nominations and voting solicited from the general public.
Web4Africa's success at the 2023 .NG Awards is a personal triumph and a significant milestone for the Nigerian DNS industry. As a leading .NG Domain Name Registrar, Web4Africa has played a pivotal role in advancing the DNS industry in Nigeria. This award is a testament to their commitment to excellence and innovation in the internet community.
As NiRA looks forward to a successful 2023 .ng Awards Ceremony, it appreciates the public's active involvement and encourages continued support for organizations, businesses, and individuals driving progress within the Nigerian internet landscape.