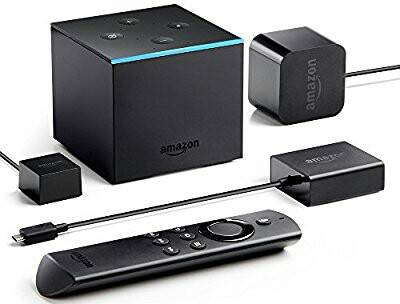 What do you get when you combine an Echo speaker and the Fire TV into a single gadget? That's right! You get the Amazon  Fire TV Cube.
Essentially, the Amazon Fire TV Cube is a Fire TV with a speaker and the Alexa smart assistant built-in which connects to your TV and can provide up to 4K UHD content from Amazon Prime services, Hulu, Netflix and other streaming apps.
Amazon Fire TV Cube also serves as an Echo speaker, which allows one to call across the room to check the weather, turn on the lights, order things from Amazon or call a friend.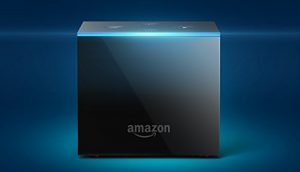 Unveiled by Amazon on Thursday, the Fire TV Cube supports cable TV boxes, thereby giving users the option to change the cable TV channel they're watching by voice. For example, you might say "Tune to CNN," or "tune to channel 487".
Among some of the cable services, it will support at launch are Comcast, DISH, and DirecTV.
Speaking on CNBC's "Squawk Alley"," Sandeep Gupta, VP of product development of Amazon Fire TV, said "One thing that's happened over the last few years is that there are more and more ways to watch content. We wanted to create a device to simplify that."
"You come home, you plug it in and straight away it manages all of that for you, with voice, hands-free from wherever you are," Gupta added.
Some cable subscribers might already be familiar with similar functionality. With Comcast X1, for example, you can speak into your remote to change the cable channel.
With the Fire TV Cube, however, you'll be able to control your cable box, your Fire TV and ask Alexa questions.
Gupta further remarked that "The goal here is to declutter people's lives, declutter the complexity of controlling your home entertainment system and make it easier to use," a statement that subtly shows Amazon's bid to dominate the smart home.
"We want to use your voice to get quickly to what you want to do," he said. "And with Alexa, we've continued to make that better … We really believe that voice is the future," he added.
Amazon said it gave the Cube its shape for a variety of reasons. Because it's meant to be kept by the TV, its mic arrays are all upfront, unlike all around a cylinder-shaped Echo speaker. Plus, an Echo's circular light ring would've reflected on the TV, so the Cube's indicator light is only upfront, too. The Cube isn't a pure cube, though, to prevent the device from blocking the bottom of your TV.
The Fire TV Cube would launch on June 21 for $120.