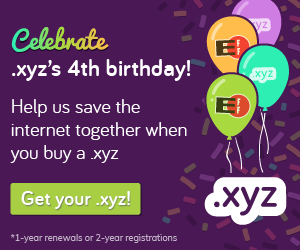 Announced in 2013, .XYZ was launched with much funfair in 2014. The 4th Year Anniversary of the domain name extension .XYZ is being celebrated this June 2018 and multiple discount offers are available from Web4Africa to mark the milestone.
To mark the 4th anniversary, Web4Africa is making .xyz domain registration available at only $6.99 for two years. That is effectively an over 70% discount considering the regular pricing offered by Web4Africa for two-year registrations is $24. No promotional code is required to take advantage of the offer.
.XYZ has gained wide acceptance
.XYZ has been a massive hit. With millions of domains registered globally and thousands by Web4Africa alone, the extension has been widely accepted. .xyz domains have been registered in over 230 countries and territories through over 190 Accredited domain registrars. A notable Registration was abc.xyz by Alphabet Inc, the multinational conglomerate and parent company to tech company cum search engine giant Google.
Not only is .xyz currently among the top-two most registered new gTLDs, (link to knowledge base), it is in the top 10 fastest growing new gTLDs as of June 2018 and has more active domains in the Alexa Top 1 Million List than any other new gTLD.

Premium .XYZ Domain Sales
In addition to a list of .xyz domains tagged as premium by the .xyz registry, a secondary Premium / Aftermarket sector is flourishing for .xyz domain names.
According to information from dnpric.es, the top 100 domain name sales fetched a total of 973,150.08 USD; with an average price of 9,731.50 USD per domain name.
The highest prices fetch for the premium .xyz domains have been mostly single digit domains including:
1.xyz reportedly selling for $182,154 in 2016
9.xyz reportedly selling for $175,000 in 2015
6.xyz reportedly selling for $125,000 in 2015
8.xyz reportedly selling for $81,715 in 2015
88.xyz reportedly selling for $70,000 in 2016
The Web4Africa discount offer is valid for the month of June 2018.