1. (1) This Constitution is supreme and its provisions shall have binding force on the authorities and persons throughout the Federal Republic of Nigeria.

(2) The Federal Republic of Nigeria shall not be governed, nor shall any persons or group of persons take control of the Government of Nigeria or any part thereof, except in accordance with the provisions of this Constitution.

(3) If any other law is inconsistent with the provisions of this Constitution, this Constitution shall prevail, and that other law shall, to the extent of the inconsistency, be void.
Those solemn words define the supremacy of the 1999 Constitution of the Federal Republic of Nigeria within the borders of Nigeria. As binding as it is, how many Nigerians who are not involved in any legal-related occupation have ever read the constitution in its entirety? To tell you the truth, I have never read it either.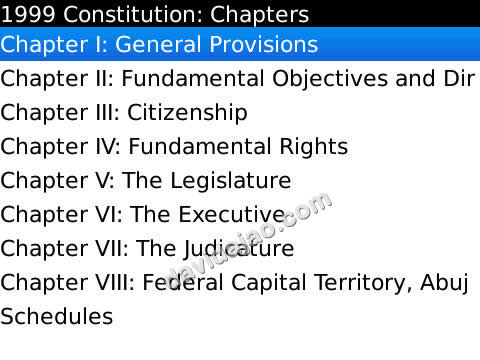 You would thus agree that the Nigerian constitution in the form of a mobile app on a smartphone platform popular among Nigeria's elite, would be one of the means of making the constitution accessible to a section of the Nigerian population. It makes sense.
The Nigerian Constitution Blackberry app was setup by Zubair Abubakar, a young Nigerian developer who describes himself as a "budding software engineer".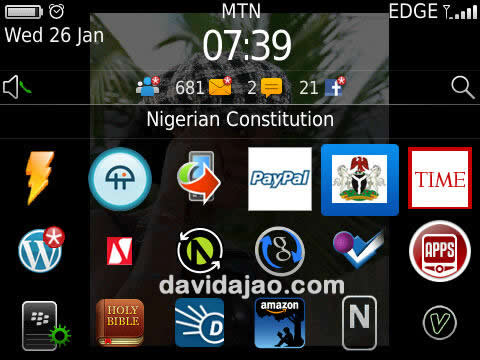 The app is pretty basic and straight-forward. It offers the entire constitution and all its content in a digital text format, allowing users to read the various chapters and schedules exactly as they are laid-out in the hard copies.
Although, a search functionality would have made it more useful, it is an important app for any BlackBerry user who is interested in The Constitution of Nigeria.
As of today 27th January 2011, the apps download page states that the app has been downloaded 12,930 times. The app is available at http://mobileappsnigeria.com/nigerianconstitution/