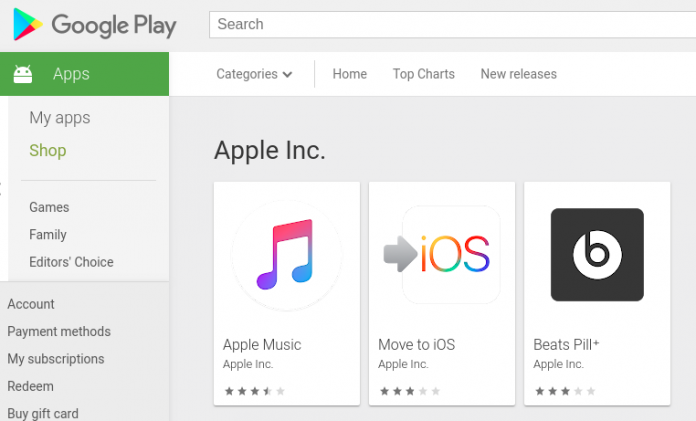 Unknown to many, there a few official apps from Apple Inc, the makers of iPhones, MacBooks and more, in the Google Play Store. This is would be surprising considering the very tight ship Apple runs.
Google and Apple are strong competitors in a few areas that their businesses overlap. The Android smartphone operating system is one of them.
The competition runs deep and has been very vicious in the past. Before Android became public, Google's then-chairman was also on the Board of Google Inc. The co-founder of Apple Inc, the now-late Steve Jobs, was known to have sworn to destroy Android. Years later, things seem to have eased.
Android is easily the most-used smartphone operating system worldwide, with over 80% market share. It would thus make sense for any company offering services through mobile apps to take Android very seriously.
Here are the 3 Apple Inc apps in the Google Play Store that are available to Android smartphones.
Move to iOS
Unsurprisingly, the first app is intended to help with migrating from an Android smartphone to an iPhone or iPad. It was first released on 16 September 2015.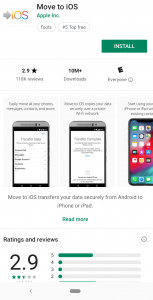 The Move to iOS apps assists with securely transferring the following data:
Contacts
Message history
Camera photos and videos
Browser bookmarks
Mail accounts
Calendars
Move to iOS now also:
offers matching free apps for download during the transfer
matching paid apps are automatically added to the App Store Watchlist for later purchase
How it works
The new iOS device would create a private WiFi network that the Android smartphone must connect to. Once the connection is authenticated with a security code, the content migration would commence.
Move to iOS has over 10 million downloads to date with the latest update to the app being released on 17 March 2016.
A minimum of Android 4.0 and iOS 9.3 is required.
Apple Music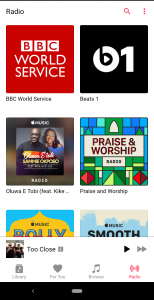 Android smartphone users are not left out of the Apple Music groove. Over 45 million songs are available to stream through the service, from Apple's extensive catalogue.
Other features include:
Favourite music tracks can be downloaded to the smartphone, thus saving on cellular data costs.
Users can create their own playlists or listen to mixes automatically created based on the frequently listen to music.
Users create a profile to share playlists and follow other users.
Personalized recommendations based on usage pattern are available on a daily basis.
Radio: live streaming of some radio stations.
The app was first released on 10 November 2015 and was last updated on 2 April 2019. It presently has over 10 million downloads.
Beats Pill+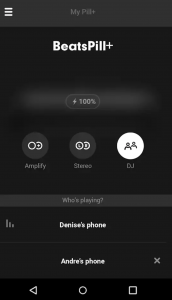 Apple Inc inherited this app with its outright purchase of Beats Inc.
The app was developed for the portable Beats Pill+ speaker and helps with controlling the speaker from the smartphone app.
The features include:
DJ: it allows the speaker to be controlled from two Bluetooth sources
Amplify: a 2nd speaker can be paired to the same smartphone for a fuller experience with the same music playing simultaneously from both speakers.
Stereo: for a more dynamic music listening experience, a 2nd speaker can be paired with each of both speakers playing the left and right channels of music.
The app was first released on 29 October 2015 and has over 100,000 downloads to date.