Research in Motion (RIM), makers of BlackBerry smartphones, released the current version of their operating system (OS 6) along with the BlackBerry Torch smartphone. They later released official versions of OS 6 for some of their earlier smartphones: BlackBerry® Bold™ 9700, BlackBerry® Pearl™ 9105 and BlackBerry® Curve™ 9300.
I blogged about running OS6 on BlackBerry 9700 and promised a follow-up. I've been too busy to publish a detailed sequence. Since I have been overtaken by events, I would simply highlight some of the latest updates.
BlackBerry 9780
If you don't have a BlackBerry and are considering buying  BlackBerry 9700 with the mind of upgrading the OS to version 6, don't.  Launched in November 2010, BlackBerry 9780 is essentially an upgrade of 9700. It comes with double the memory capacity of 9700, a better camera and more importantly, it is preloaded with OS 6.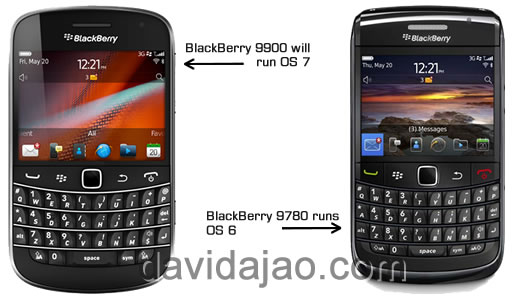 BlackBerry 9900
Slated to be released before this year 2011 runs out, the BlackBerry 9900 is the latest smartphone in the BlackBerry Bold family. It would come with a fast processor, lots of memory, a bigger storage, better camera, a touchscreen, in a good-looking body. It would also be pre-installed with BlackBerry OS 7. The new OS 7 would not be compatible with existing BlackBerry smartphones.
OS6 on BlackBerry 9700
If for any reason you are stuck with a BB 9700, upgrading to OS 6 would improve your BlackBerry experience drastically.
The first step would be to check if your mobile network operator already offers OS 6 for 9700. If they do, you can upgrade over-the-air from the BlackBerry by going to the software update setting. Either way, it's better/safer to upgrade using a PC.
Simply visit http://uk.blackberry.com to download OS 6 to your PC or Mac. Also, you need to download and install the latest version of BlackBerry Desktop Manager. Install the OS 6 on your computer and then connect your smartphone to the computer. Then, upgrade through the Desktop Manager. The detailed steps are listed here.
Be sure to back-up your BlackBerry smartphone completely using the Desktop Manager before upgrading!!! You can restore your apps, messages and settings after upgrading.