Eutelsat W4, the satellite that beams DStv signals to residents of West Africa, is fast nearing the end of its life span. It was launched on 24th May 2000 from Space Launch Complex 36B at the Cape Canaveral Air Force Station in the USA. According to Wikipedia:
Following its launch and on-orbit testing, it was placed in geostationary orbit at 36° East, from where it provides communications services to Russia and Africa. It carries thirty one transponders, and has an expected on-orbit lifespan of 12 years.
MultiChoice Africa, operators of the DStv service, have big plans for Africa. It is thus only a natural progression that they aim to offer more channels and better service. This is where the new Eutelsat W7 satellite comes in.
Eutelsat W7 is a communications satellite in the W Series, operated by Eutelsat. It will be located at 36°E. It was launched by November 23, 2009 14:19 GMT, and will have a lifetime of about 15 years (up to 2024). W7 will be the most powerful spacecraft in the fleet of Eutelsat. It will be colocated with Eutelsat's W4 satellite at the 36 degrees East position. Digital broadcasting and direct-to-home video services will be beamed to customers in Russia and sub-Saharan Africa using W7.
See below, two of Eutelsat W7 downlink coverages: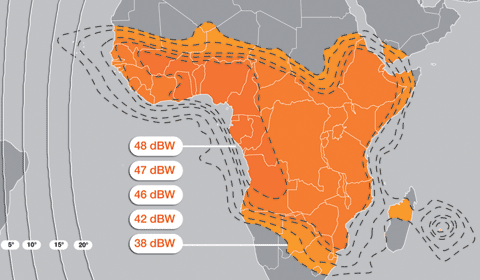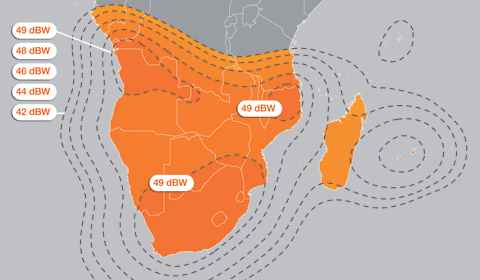 So how does Eutelsat W7 fit into the overall growth strategy of DStv? This was the question put to Harry Pratt, Business Development Manager at MultiChoice Africa by VIA (Eutelsat's magazine) in March 2009:
What are your plans for the future and how will Eutelsat's W7 satellite, which launches later this year, fit into your strategy?
W7 will give us additional capacity, enabling us to expand the number of channels we offer and to develop our service to countries in the horn of Africa. It will also allow MultiChoice Africa to bring another first to Africa with the delivery of high definition channels to subscribers in Sub-Saharan Africa. We have invested more than one billion dollars over the past ten years, in both infrastructure and content, across 48 countries and the introduction of HDTV channels will further enhance our offering, to ensure it is in line with the best operators from around the world.
Since W4 and W7 are colocated at 36.0°E, DStv subscribers would not have to turn their respective satellite dishes but might only have to edit some parameters on the DStv decoder. DStv is yet to release these parameters but I would mess with mine so you don't have to, and release the data via this blog, later.
Stay tuned for details about DStv's High Definition TV (HDTV) strategy.
This is my first blog post in 2010. Happy New Year and I wish you the very best in 2010 and beyond. Keep reading this blog for useful information and analysis regarding technology & more, in Africa.