With over 7.4 million subscribers as of September 2009, MTN is easily Ghana's leading telecommunications network, offering mobile telephony services, Internet connectivity and more.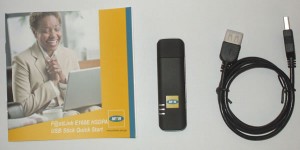 I recently picked up an MTN "Exclusive 3G Pack" for 100 Ghana Cedis (about $69) and have used it extensively for about 14 days mainly in Accra. The information below is based on some of my experience using the mobile broadband service.
The 3G pack contained:
an MTN-branded Huawei E160E USB stick
an MTN Internet SIM
Technical Specification
Find the technical specifications and some explanation of the USB device, below:
Network: HSDPA/UMTS (850/1900/2100MHz) & GSM/GPRS/EDGE (850/900/1800/1900MHz). This means the device can work across most GSM networks, globally.
Speed: It supports 3.6Mbps HSDPA services. Since MTN offers connectivity over a 3.5G network, users can experience theoretical speeds of up to 3.6Mbps which is very high by today's best standards.
Memory: Micro SD Card Slot. It supports up to 4GB storage when a MicroSD card is placed in the included slot and therefore the device can double as a USB storage device.
Communication: SMS services – users can send and receive text messages through the software bundled with the device. Though the device can support PC voice, the function is not enabled by MTN.
Support data statistics: The bundled software offers extensive graphical statistics.
Plug & Play: it works almost as soon as it is connected to a PC or Mac. It requires no seperate CD installation software.
Cross-platform: Support Windows 2000, Windows XP, Windows Vista and Mac Operating Systems. From my tests, I also got it to work on an Ubuntu desktop version operating system.
MTN F@stlink software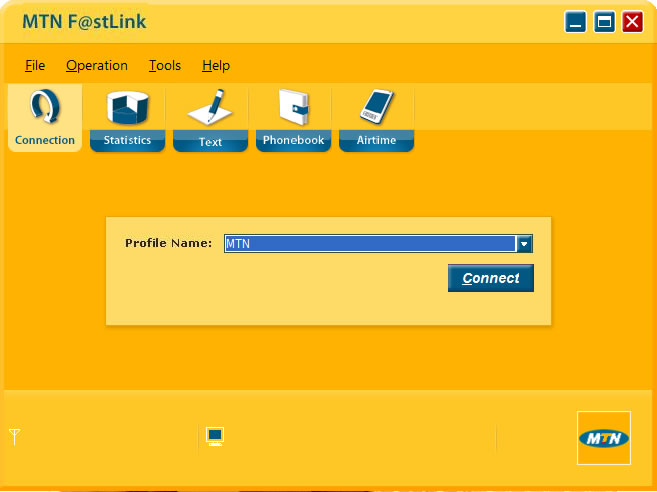 Installing the device was a fast and straight-forward process. The easy-to-use MTN F@stlink (the dialling software) was soon installed.
MTN F@stlink comes with the following features:
Connection: allows users to connect and disconnect to the Internet
Statistics: displays real-time statistics whilst the user is connected to the Internet and also includes a daily, monthly and yearly data counter.
Text: enables the user to send and receive text messages as well as manage existing text messages.
Phonebook: a simple contact management system that includes the following fields – Name, Mobile Number, Office Number, Home Number, E-mail Address.
Airtime: enables the user to check existing data balance and as well as load a regular MTN airtime voucher.
MTN Internet SIM
The special SIM card bundled with the MTN "Exclusive 3G pack" had 2 Ghana Cedis airtime preloaded with amounted to 50MB data. Since this was a special SIM, the Internet tariff is lower, compared to the normal MTN SIMs. In order to compare the data tariff with that of Zain, I loaded 30 Ghana Cedis airtime and the total data derived amounted to 1.2GB. 400MB of data was credited each time I loaded a 10 Ghana Cedis airtime voucher. Note that "Zain Lite" Internet package offers only 1GB of data for 30 Ghana cedis.
The MTN Internet SIM is restricted from making or receiving calls by MTN even though it comes with a regular MTN mobile number. Calling the number, one hears the ringing buzz but there is no reaction on the PC nor any notice of a call. One hears an error message when a call attempt is made from the Internet SIM.
I tried the special SIM on a mobile phone and it worked normally with the exception of not taking nor making calls.
Usage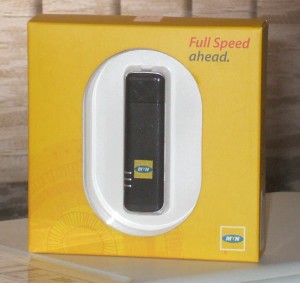 I tested the connectivity from McCarthy Hill area in Accra and experienced a signal strength that varied between 95 and 99%, with real download speeds reaching 1.8Mbps. MTN Ghana's website www.mtn.com.gh loaded the fastest since they host their own website. Real speeds elsewhere might vary according to the time of day (peak or off-peak period), number of people connected to a particular base station, speed of travel (if the user is in motion), and signal strength.
Much of Accra is covered by MTN's 3.5G network with EDGE filling the gap in patches without 3.5G. Using the service on the outskirts of Accra where only GPRS is available, speeds did not exceed a meagre 5kbps. This implies that MTN Broadband is best used where there is 3.5G network coverage.
According to MTN Ghana's website:
MTN 3G service is available in Accra, Tema, Kumasi, Takoradi, Tarkwa, Bogoso, Ho, Koforidua, Cape Coast, Kasoa, Winneba, Tamale, Sunyani, Kenyasi, Techiman, Obuasi, Bolgatanga, Wa, Prestea, Damine, Ntoroso, Bibiani, Besomtwi, Bekwai, Aflao, Chirano and still counting.
In summary, MTN's Mobile Broadband service is ideal is for home or small business users who have limited data usage but want to experience the high speed 3.5G technology offers. The entry fees are affordable as are the data tariffs. It is advisable to check if your area has 3.5G coverage before getting on board. You can do so by manually scanning the networks from a 3.5G phone.
MTN offers another device for connectivity, aside the USB stick:
3.5G F@stLink Router
MTN 3.5 G F@stlink router is a 3G cellular modem,which has an embedded wireless hotspot, with four Ethernet ports and a traditional phone jack. It is perfect for home or small offices and allows a user to sharea connection with multiple users. The router may also serve as a modem using the USB slot to provide a single connection to the user.
Did find this review useful or otherwise? Share your thoughts in the comments area.