I was invited to cover the Tech Showcase of Esoko's 3rd Annual Partner Conference. The Tech Showcase was a segment of the larger partners' gathering. Esoko Partners are their international clients who have paid to use Esoko software in their respective countries. I was able to gather information that I would be sharing in the next few days. Since the information is much, I have decided to split it into multiple parts. The first part would be informal and would offer exciting details that would otherwise not have made it into the more formal reports. Consider this backstory an appetiser. Bon Appetite.
The event had just started when I arrived at the 6th floor of Oksart Place on Ring Road Central in Accra, Ghana. I was quickly ushered into the spacious orange-themed conference room. Partners were present from several African countries.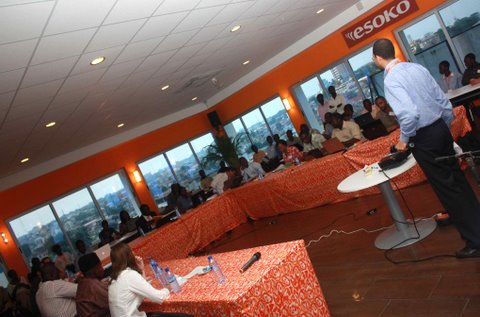 The Introduction
Members of Esoko's tech teams (geeks, programmers, managers) introduced themselves in a rather humorous manner that sent waves of laughter across the room. They kept unleashing their funny nicknames that one would have imagined would be confined to the ears of the esoteric Esokoninis.
Esoko tech team with Sudan Partner
The Esokoninis
Esokoninis are not citizens of a former Soviet republic. That's the informal demonym for Esoko staff. They came across as boisterous, intelligent and creative minds turning the wheels of Esoko. I chatted with a few of them and the information gathered contributed to the subsequent write-ups about Esoko.
The Graphs
Next were slideshows that shared the decision-making processes that go into designing an Esoko application. Some details about this would be shared in subsequent posts.
The Drama
Esoko went to the extent of dramatising some of their processes with a rendition titled "A Day In The Life Of Our CEO". The largely fictional drama explained some of the iteration of Esoko.
Another drama was when Mlen-Too Wesley, Esoko Lead Developer, took the stage to announce a new Esoko feature. His presentation style Apple's Steve Jobs written all over it. His engaging presentation focused on iFrame, "a powerful content embedding technology developed exclusively by Esoko". Launching in 2012, iFrame would allow content with content and enable partners to display Esoko content on their respective websites. I was almost hooked until Mlen-Too Wesley rescued me in a chat later, explaining that the entire presentation was a practical joke based on a real event with an Esoko client.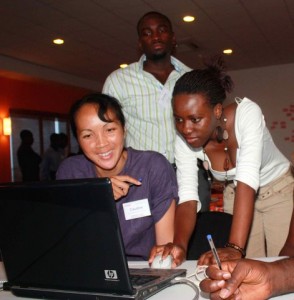 The Esoko Hub
Esoko is housed in a multi-storey building at the beginning of Ring Road Central in Accra, with the 3rd to 6th floors reserved for its exclusive use. The building, known as Oksart Place, is a stone's throw from the iconic BusyInternet, where Esoko was nurtured.You cannot miss the orange colour of Esoko's logo in the office spaces, conference rooms, lighting and interior decoration. Somehow, it was heart-warming that a dot-com was this established and expansive in Ghana.
Esoko is a mobile integrated platform used by projects, businesses & individuals to exchange market info via SMS. Built, building and operating out of Accra.
Thanks for taking time to consume this appetizer. The main course would be served very soon and would include some exciting technical and business details about Esoko.