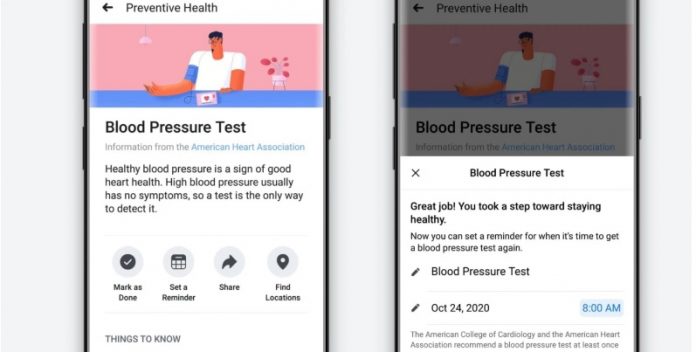 Facebook has announced that it will now let users choose to get personalised reminders about upcoming healthcare checkups and vaccinations. Facebook's Preventive Health tool "focuses on getting people information about cancer screenings, heart checkups, and flu vaccines — all measures that could hopefully help people catch deadly conditions long before they become lethal," the announcement read.
The tool – which is currently only available in the US, with no word on when it'll be made global – takes a users age and sex directly from the Facebook profile and uses this data to recommend screenings based on those data points.
"Let's say you're 52 years old," – Facebook's head of health care research, Freddy Abnousi said, while speaking with The Verge. "One of the things that will come to you — based on the American Cancer Society's recommendations — is that you should have a colorectal cancer screening."
"The app will then give you more information about what kinds of tests are available, from a colonoscopy to a stool test or a CT scan. [Hopefully] users will then take what they've learned and talk to their primary care physician about what would be best for them. Users can also adjust the age and sex in the tool to get different screening recommendations without having it affect anything on their profile."
Facebook says its system is similar to that of many physicians who have automated reminders for their patients but more generalised "since it's not connected to any medical records or doctors' offices".
"We never see any of your health care stuff," continues Abnousi. "This is simply taking information, making it understandable, and delivering it to our users and the people across Facebook."
Users can schedule reminders for upcoming appointments and even mark them complete post checkup. "Let's focus on giving people tools for prevention, from the experts, and hopefully they will drive their preventive care," concludes Abnousi.