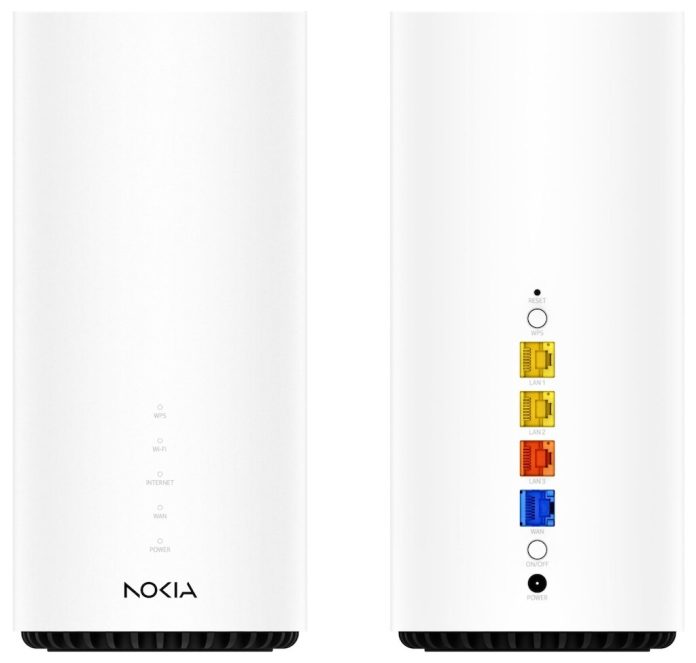 Nokia has unveiled the Beacon 10, its first gateway to support Wi-Fi 6E, which delivers seamless, high-capacity mesh networking. The tri-band device provides a Wi-Fi throughput of 10Gbps and includes a 10G WAN interface, making it suitable for use with 10 Gb/second fibre modems for multi-gigabit services to the home. The Beacon 10, launched at Mobile World Congress in Barcelona, is part of a strategy to upgrade home and business Wi-Fi networks to deliver super-fast speeds to enabled devices. The 'E' in Wi-Fi 6E stands for faster speeds and lower latencies, making it ideal for office applications, home entertainment, and home working experiences.
Nokia also announced an upgrade to its Nokia WiFi Cloud Controller, which now acts as a User Services Platform (USP) controller, using the industry-standard protocol known as TR-369. The USP agent in the Beacon 10 is based on the open-source OB-USPA, so any USP controller, including the Nokia WiFi Cloud Controller, can manage it. Nokia has developed an all-in-one console for Wi-Fi management and optimization, which will be available to customer care operators, network administrators, onsite technicians, and level 3 support staff to provide advanced Wi-Fi optimization, troubleshooting, and management.
The Beacon 10 also supports the latest fully integrated cybersecurity application from F-Secure, delivered as a containerized application, and is part of Nokia's ecosystem of app developers. The ecosystem aims to ensure communications service providers (CSPs) can offer value-added services on their Wi-Fi units. Dirk Verhaegen, VP of Broadband Devices at Nokia, said: "Not only does [the Beacon 10] offer faster speeds, but it also supports third-party applications and a USP agent to be fully compatible with multiple controllers, making it much easier for operators to manage."
Michael Philpott, Research Director, Digital Consumer Services at Omdia, said Nokia and other vendors were "paving the path for the next generation of in-home broadband devices with a container application framework that separates the application from the operating system." He added that F-Secure was the first partner to fully leverage Nokia's application ecosystem to bring its cybersecurity solution to Nokia broadband devices using this innovative and open environment.
Nokia is a B2B technology innovation leader, pioneering networks that sense, think, and act by leveraging its work across mobile, fixed, and cloud networks. The company also creates value with intellectual property and long-term research led by Nokia Bell Labs. Service providers, enterprises, and partners worldwide trust Nokia to deliver secure, reliable, and sustainable networks today and work with Nokia to create the digital services and applications of the future.