Nigeria is a country of superlatives, no doubt. Being Africa's largest population, it is only natural that many things to do with Nigeria would be on a relatively larger scale since the large population can be used to an advantage. Nigeria also has a land mass that is blessed with natural resources. The good mixture of a huge human resource and abundant natural resources make Nigeria even more relevant, especially in the context of Africa. It is thus understandable to some extent, that an average Nigerian is proud & confident of himself and his country. But then, there is a problem: ignorance or worst still, half-education sees to it that many people are misinformed and this motivates them to express highly exaggerated niceties about Nigeria, and completely look-down on other countries – especially neighbouring countries.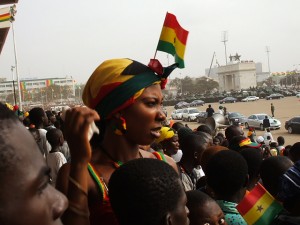 You will thus appreciate the anger and frustration of a Ghanaian diplomat in Nigeria, protesting the constant minimizing of Ghana in Nigeria, by some ignorant and arrogant Nigerian government officials. Enjoy:
SIR: I am compelled to write to express serious concern about a couple of statements by some top Nigerian officials about Ghana in recent weeks. Last month, Defence Minister Godwin Abbe was quoted as saying, "the volume of water generated in Ghana is not enough to flush toilets in Lagos State, the number of teachers you have to pay salaries in the whole of Ghana is not more than Western Nigeria so that is that. And the whole of Ghanaian Armed Forces, if you choose to know, is not more than just two brigades of the Nigerian Armed Forces, period."

Only last weekend, Education Minister Sam Egwu was on national radio talking about the ongoing ASUU strike, and he made the most ridiculous assertion that all the university lecturers in Ghana will not be adequate for a single university in Nigeria! This is a blatant falsehood. Anyone who had been to the University of Ghana Legon (with a student population of more than 40,000), can testify to the fact that probably no university in Nigeria has more space and facilities than Legon. And there are at least five more public universities in Ghana. There are also a dozen privately-owned universities in Ghana, offering quality education to Ghanaians and foreigners alike, including a growing number of Nigerians.

And in the case of the defence minister, we do not know where he got his information from regarding the current strength of the Ghana armed forces. Needless to say that the Ghanaian military is one of the best trained on the continent and had performed exceptionally well in various international assignments. The entire first generation of Nigerian military officers, including Generals Olusegun Obasanjo, Hassan Katsina and Adebayo were all trained in Ghana. Ghanaian army generals have commanded UN troops in Lebanon, Liberia, Rwanda, Darfur, etc over the years.

Information Minister Dora Akunyili also told a local television network at the end of August that the whole of Ghana is not even up to the size of Lagos! Even a child in kindergarten knows that to be untrue. Government officials, unlike private citizens, traditionally tend to be circumspect about what they say about other countries. Ghana is smaller than Nigeria, and I reckon everyone knows that as a fact. And it is certainly not the only country in the world that is smaller than Nigeria. Or is it? Or have Nigerian government officials only suddenly realised how 'small' Ghana is?

Our concern really is that such reckless and unguarded comments could have grave implications for bilateral relations and derail efforts by leaders of the two countries to forge strong bilateral ties. We think President Umaru Yar'Adua should call his ministers to order. The Ghana bashing must stop! Ghana is a well-respected member of the international community, and deserves respect from Nigerians, particularly top government officials.

Nana Yaw Aboagye, Ghana High Commission, Abuja, FCT
I remember a friend once asking me, "Is there traffic jam in Ghana?" when I was complaining about being stuck in heavy traffic. I cheekily responded that "Ghana is only a small village and there is no traffic at all". On other occasions, I have come across people who think of Ghana as only a town and not a country. They are thus shocked when they have to travel at least 3 hours from  Aflao border town to the capital city Accra when they are travelling to Ghana by road for the first time. Worse still, many outside Africa don't know Ghana or confuse it with Guyana.
I reckon Ghana has a lot of publicity work to do.
Back to the ignorant (and/or arrogant) Nigerian government officials and politicians, I am of the opinion that they should rather be making their shameless comparison with South Africa, Brazil, Malaysia and China. All four countries are former colonies (like Ghana and Nigeria) and though classified as "developing countries", but are doing very well. Politicians looking for a smaller country to use in defending their abysmal failure doesn't sell in my ears.
Quick stats about Ghana
Independence (from Britain): 6th March 1957
Area: 238,535km squared or 92,098 square miles
Estimated population: 23,837,000 (2009)
more information about Ghana is available here.
What are your thoughts?