A few friends were in Ghana last December. After enjoying the sights of Accra, they wanted an exhilarating experience. Since they had heard of Kakum National Park, it was the natural choice. I decided to join them. I wish someone had warned me of what to expect.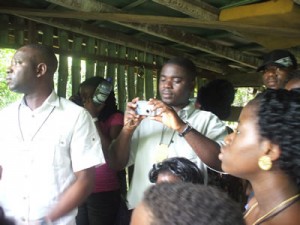 I had often seen photos of tourists inside the Kakum National Park and the one that left the strongest impression on me was that of the then President of Ghana, John A. Kufuor. As part of a documentary meant to market Ghana to the outside world, the President was touring the Kakum Park atop one of the walkways. At the end of the ordeal, I saw him catching his breath. I had always looked forward to visiting the place and experiencing what had been attracting so many people to it. The drive from Accra to the Park through Cape Coast took about 2 hours. In no time, we were ushered into an unforgettable experience. After paying to go deep into the Park, we had to wait to form a larger group as the guides required a minimum of about 15 tourists before embarking on a tour. Whilst we were waiting, this guide was giving us a few notes on what to expect and mentioned that anyone who needed water should grab a bottle now since there would be no water for sale deep in the forest. I wondered what anyone would need water for – I was soon to find out. Every tourist had a badge around their neck and the climb soon started. We first had to climb a very steep with rocks along the way. In a little while, everyone was gasping for breath and you would thus imagine the relief when we came by a hut in the middle of the climb. After a few minutes of rest, we were to continue again. By the time we reached the crescendo, everyone was sweating profusely. It was like I had be showered by rain but it was all my own sweat. We were soon ushered into a hut from which we were supposed to embark on the famous Kakum Walkway.
The guide was giving us a brief overview on what to expect and mentioned something about seven walkways. My ears twitched. Seven? Perhaps I didn't hear him right. I had always thought the walkway was only one and something I could just run along but seven? My friends were among the first to attempt the walk. Just a few steps into the walkway and they came running back. I couldn't stop laughing. Apparently, the walkway was dangling from side-to-side as soon as they stepped on it. The mere thought of falling over a hundred feet into the forest was too much for them to bear. Eventually, we mustered some courage and took a few steps forward. It wasn't easy. 🙂 Looking left and right, I could see a dense forest below us but I was too concerned about my personal safety to bother about finding the animals I had read about. Soon, the gruelling walk was over and we descended back to the lower part of the Park catching our breath as we went along. Kakum Walkway was certainly an exciting experience, and one I still look forward to go through again. I have deliberately left out some other exciting details, to attract others to visit the place and experience the pleasant surprises. No amount of reading can make up for experiencing it yourself. Have you been to Kakum Walkway before? If yes, share your experience. If no, why not?