I noticed multitudes of GOtv Africa banners and balloons in the ancient city of Ibadan Nigeria in the last quarter of 2011. The similarity with the name/logo of DStv was clear. Promotional drives were ongoing at different vantage points in Ibadan.
GOtv is a new digital terrestrial TV (DTT) service by Multichoice Africa, operators of DStv. Instead of broadcasting via satellite, GOtv broadcasts from TV masts, sending encrypted digital signals to proprietary GOtv decoders. The signal is then decoded and sent to the television set.
From their sales website:
GOtv, Nigeria's newest pay TV service was launched in Ibadan on 15 October 2011. Using the latest DVB-T2 technology, this brand new digital service is dedicated to offering television lovers affordable family entertainment. Featuring 2 great bouquets, consisting of 29 and 25 channels respectively, GOtv is an exciting service delivering great television at a price everyone can afford.
GOtv Africa is promising to offer:
Excellent picture quality
Sharper sound
Electronic Programme Guide (EPG) that displays what's on TV at the touch of a button
The above features are all started with DTT technology. The wide variety of channels offered are all extracted from their DStv service. None of the channels are exclusive to GOtv.
In Nigeria the monthly subscriptions for GOtv is 1,000 Naira and for GOtv Plus is 1,800 Naira. Launch price for GOtv (including decoder and 3 months GOtv subscription) is N9,000 and for GOtv Plus is N12,000.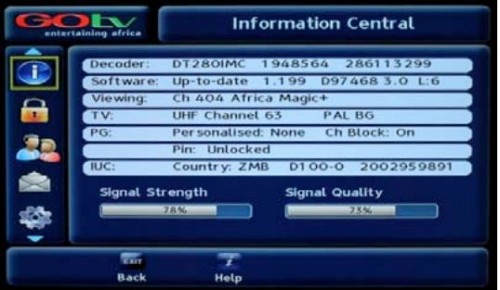 Digitization of terrestrial television broadcasts is on-going in many countries globally at this time. Whilst DTT frees-up valuable frequencies for other uses like wireless broadband connectivity, it offers better picture and sound quality even with a minimal signal strength. The Nigerian broadcast industry regulator is the National Broadcasting Commission (NBC). NBC's website reveals that the government of Nigeria started the digitization process in December 2007 with a target date of 17th June 2012. Aside satellite and cable (MMDS), most TV broadcast in Nigeria today is still analogue. Before now, Startimes TV had been the only widely available DTT service.
The GOtv pay service is already available in 3 other African countries: Kenya, Uganda and Zambia.