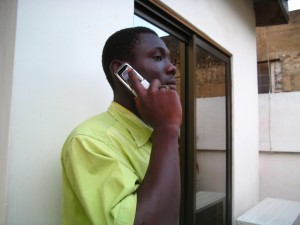 What can be described as the GSM evolution in Ghana, started essentially as way back as November 1996 with the launch of the first GSM service by Scancom Limited under the brand name of Spacefon, now known as Spacefon Areeba.
It would be important to start this piece by enlightening the reader a bit about the major players in Ghana's GSM scenario.
MOBITEL
Mobitel, (a service of Milicom Ghana Limited) held sway in Ghana as the premier mobile phone service. It operated an analogue network that was very popular amongst the rich and elite in the society. It was more or less a show of class to own a 'mobitel'. The brand awareness was so intense that till date, many people still refer to any mobile phone as 'mobitel'. This was in the early 90's.
SPACEFON AREEBA
In came Spacefon, with its post-paid package for Ghana's first GSM service in November 1996 and the rest as they say is history. First was the thrill that came with the new service's Caller ID (Note that Caller ID is an integral feature of GSM). Spacefon's service gained more and more popularity by the day. New features like Call Forwarding, Call Holding, International Roaming, Short Messaging Service (SMS) was soon made available to the increasing number of subscribers.
In 1998, Spacefon launched its prepaid service and christened it SNAP. It came with many of the features of a digital mobile phone service, with the convenience of being prepaid. It became more popular, especially amongst the youth population.
ONETOUCH GSM
In the year 2000, Ghana Telecom introduced its GSM service, tagged OneTouch GSM. It however failed to make the necessary impact simply because its starter packs were not readily available. The few in circulation were hoarded and sold as high as 1 million cedis (about $110). Despite the scarcity of OneTouch GSM's SIM packs, it was still much in demand because it was very easy to connect to OneTouch Lines than any other network and also, it became a 'status symbol' since it was only available to the rich, and high-ranking government officials. At this time, it was a big deal to have your mobile phone number start with a '020′. (020 is the network access code for subscribers on OneTouch GSM).
Note that at this time, OneTouch GSM's subscribers were unable access any value added service like SMS, VoiceMail, Call Holding/Forwarding. It was plain voice calls.