From Wikipedia:
The 2011 Horn of Africa famine is a famine occurring in several regions in the Horn of Africa as a result of a severe drought that is affecting the entire Eastern Africa region. The drought, said to be "the worst in 60 years", has caused a severe food crisis across Somalia, Ethiopia and Kenya that threatens the livelihood of more than 10 million people. Other countries in and around the Horn of Africa, including Djibouti, Sudan, South Sudan and parts of Uganda, are also affected by a food crisis.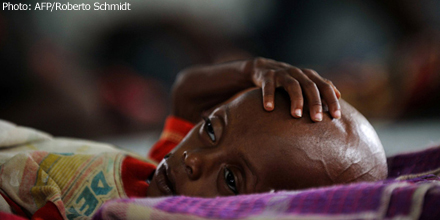 Former Ghanaian president Jerry Rawlings is leading the African Union's efforts to deal with the famine in Somalia. He spoke to British TV broadcaster Channel 4 on Thursday from Mogadishu in Somalia.
You too can help by donating directly to the World Food Programme.