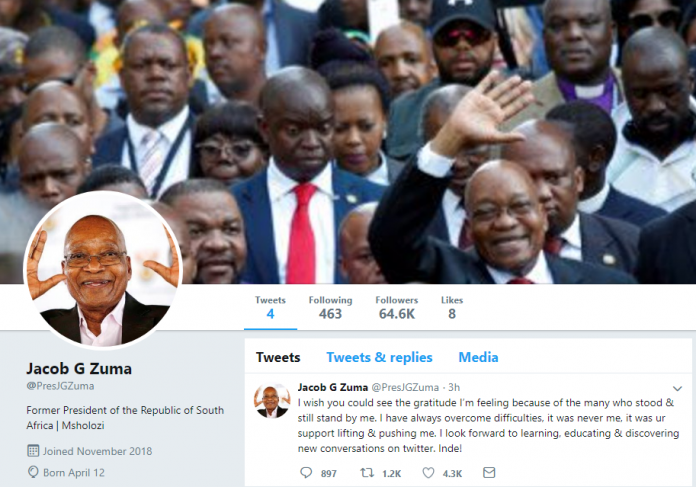 A former President of the Republic of South Africa, Jacob Zuma, joined Twitter on Friday morning.
With the first post being a recorded video of him announcing his reasons for joining, it further proved the social media accounts were legitimate, considering multitudes of fake/parody accounts have existed before now.
Good morning Mzansi

Thank you for the warm welcome, I look forward to engaging with you. pic.twitter.com/sr1MhSNf0F

— Jacob G Zuma (@PresJGZuma) December 14, 2018
The presence with the biggest reactions has been Twitter where his handle is @PresJGZuma – this is not much of a surprise considering South Africans are very active on Twitter.
His former key opponents in Parliament have already responded to him on Twitter.
Mmusi Maimane is the leader of the leading opposition party Democratic Alliance:
Some good news. Your party has confirmed that it will be helping you collect funds for your court cases. #united #smallanyaskeletons. Perhaps the current President can make a donation.

— Mmusi Maimane (@MmusiMaimane) December 14, 2018
Julius Malema is the "Commander-in-Chief" of the 3rd largest party in the South African Parliament, the Economic Freedom Fighters:
Welcome Baba…

— Julius Sello Malema (@Julius_S_Malema) December 14, 2018
There have been a diversity of reactions to the former President's presence on social media. Ranging from apathy to anger, as well as affection.
At the time of writing, Jacob Zuma had gathered almost 65,000 followers on Twitter in less than 24 hours.