A new passenger terminal, Terminal 3, is being inaugurated at Ghana's premier airport, Kotoka International Airport (KIA) in Accra today Tuesday 2nd October 2018. However, the new terminal became operational on 15th September 2018.
As part of the inauguration, the world's 4th largest airline, Emirates, would be operating an A380 jet for the Tuesday leg of its daily Dubai – Accra – Dubai flight: Emirates flight 787.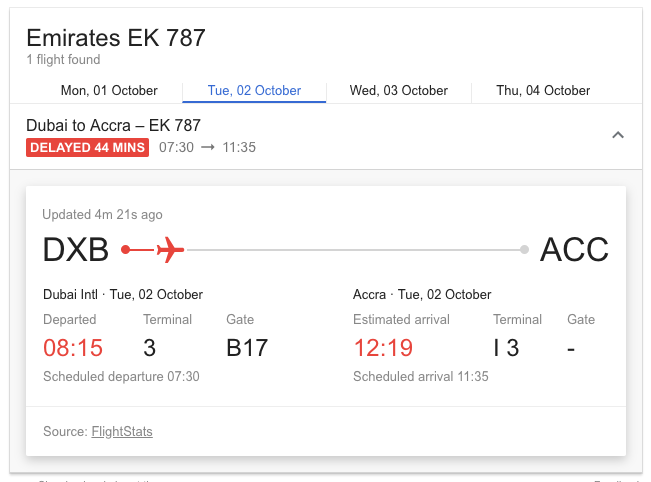 The Airbus A380, one of the most technologically advanced aircraft is a double-deck, wide-body, four-engine jet manufactured by European manufacturer Airbus. It is the world's largest passenger airliner, and the airports at which it operates have reportedly upgraded facilities to accommodate it.
The KIA Terminal 3 is designed for international traffic, spanning across an area of 45,000m². The terminal features 6 contact stands for Code E aircraft and two additional remote stands. Thus, Terminal 3 is able to accommodate and service A380 jets.
This special one-off flight is reportedly to be piloted by a Ghanaian pilot with Emirates, who is qualified to fly A380s, Captain Solomon Quainoo.
The specific jet to be used on this flight has the tail registration A6-EUV and has been used for scheduled flights on the Dubai – Sao Polo and Dubai – Port Louis routes in recent days. The jet is also special to the extent that it is the 100th A380 for Emirates. It was delivered to Emirates in November 2017 and is painted in "Year of Zayed 2018" special colours.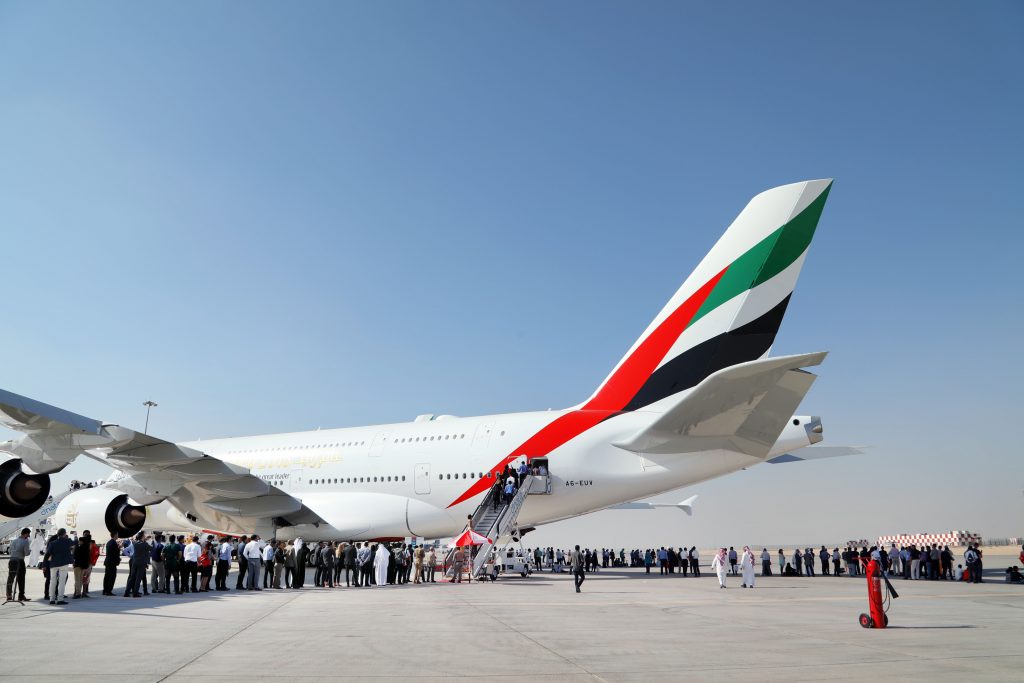 Other flights to African destinations using A380 jets
There are only 7 scheduled flights to African airports that routinely make use of the A380 jet:
Air France flight AF702: Paris (CDG) → Abidjan (ABJ) → Paris (CDG)
Emirates flight EK751: Dubai (DXB) → Casablanca (CMN) → Dubai (DXB)
British Airways flight BA55: London (LHR) → Johannesburg (JNB) → London (LHR)
Air France flight AF990: Paris (CDG) → Johannesburg (JNB) → Paris (CDG)
Emirates flight EK763: Dubai (DXB) → Johannesburg (JNB) → Dubai (DXB) [Emirates operates 4 daily flights to Johannesburg from Dubai but makes use of the A380 only on the EK763 flight]
Emirates flight EK701: Dubai (DXB) → Port Louis (MRU) → Dubai (DXB)
Emirates flight EK703: Dubai (DXB) → Port Louis (MRU) → Dubai (DXB)