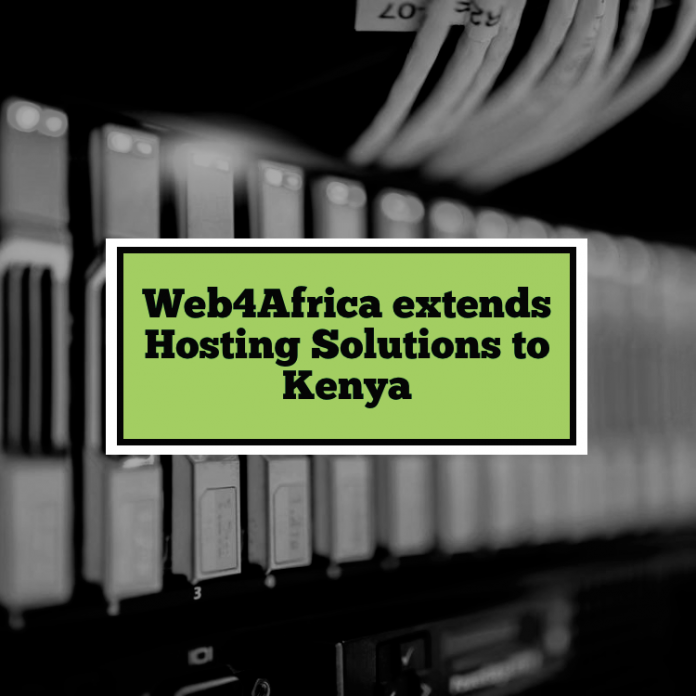 Established in 2002, Web4Africa is a leading pan-African web hosting company delivering world-class hosting solutions to clients worldwide.
The company has now extended its data centre footprint to Nairobi Kenya, thus increasing its data centre presence across Africa to 4 countries.
The presence in Kenya enables Web4Africa to deliver super-fast hosting solutions to residents of Kenya and neighbouring countries in East Africa that have direct IP network connectivity to Kenya. The regional countries include Tanzania, Rwanda, Uganda, and Burundi.
Local Hosting Solutions in Kenya
Web4Africa now delivers local hosting solutions from Kenya including:
Web Hosting: regular website hosting is now available from a Kenyan datacentre. A client is now able to choose Kenya as hosting location when ordering for web hosting.
Virtual Server Hosting: VPS Hosting offers more power and privacy over and above the typical web hosting account. Fast and reliable Virtual Private Servers are now available in Kenya from Web4Africa, at affordable pricing. Self-Managed and Managed options are available.
Dedicated Servers physically hosted in Kenya are available on-demand.
Other custom solutions including but not limited to Reseller Hosting and Private Cloud Hosting can also be delivered from Kenya.
Web4Africa in other regions of Africa
While Web4Africa's presence in Kenya serves the East African sub-region, the company also serves Southern Africa from its presence across two data centres in Johannesburg South Africa. Web4Africa also has a data centre presence in Ghana and Nigeria respectively, offering local hosting solutions to the two West African countries.
Web4Africa manages a dual-stack IP network with direct connectivity to hundreds of IP networks in Africa, through an extensive and open peering on:
– Johannesburg Internet Exchange;
– NAP Africa Johannesburg;
– Internet Exchange Point of Nigeria;
Web4Africa also enjoys direct connectivity to the flowing Internet exchanges through its transit providers in the respective countries:
– Ghana Internet Exchange (GIXA)
– Kenya Internet Exchange Point (KIXP)
The company makes use of only the best-in-class server and networking hardware in other to deliver reliable hosting solutions.