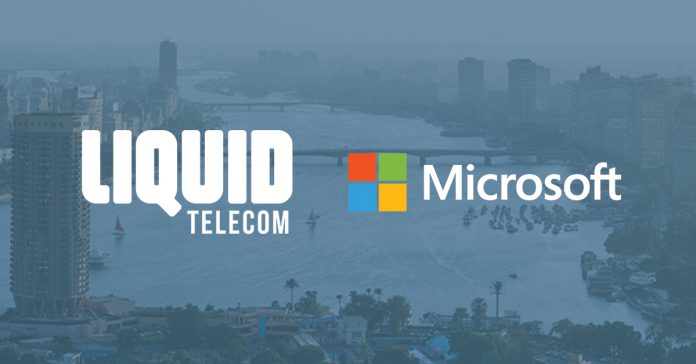 Liquid Telecom has extended the availability of Microsoft Azure from the Cape to Cairo, continuing its stride in the African cloud revolution.
This breakthrough scale-out of the Microsoft cloud-based architecture, announced yesterday at AfricaCom 2018, offers customers across the continent limitless opportunities for agility, innovation, and secure, compliant growth.
The Cape to Cairo capability for Microsoft Azure is enabled by Liquid Telecom's forward-thinking ecosystem: five world-class data centres, connected via a pan-African fibre network approaching 70,000km; five regions offering the Microsoft Azure Stack hybrid cloud; and the company's position as a Microsoft Tier I and Tier II Could Solution Provider.
A private, high-performance CloudConnect for Microsoft ExpressRoute service, together with Liquid Telecom's expert cloud enablement services also enable customers to accelerate their cloud deployment and achieve faster time to value.
"By extending the reach of Microsoft Azure to an increasing number of countries and customers, Liquid Telecom is helping Africa realise its digital future," said Nic Rudnick, Group CEO, Liquid Telecom.
"We offer customers a single, unified solution for their Microsoft Azure strategy. This is underpinned by an unrivalled fibre network, strategically located data centres, a hybrid cloud architecture covering Azure and the Azure Stack, and an ExpressRoute connection to maximise the benefits of the cloud. Together, Microsoft and Liquid Telecom are creating a modern business foundation for customers in Africa – one that inspires innovation, cloud-paced change, compliance, and business growth."
The Liquid Telecom ecosystem brings cloud services in Africa together, offering customers a one-stop solution for Microsoft cloud computing, connectivity, and professional services.
Scale-out Microsoft Azure and Azure Stack: Liquid Telecom now provides this modern hybrid cloud in five regions – South Africa, Zimbabwe, Tanzania, Kenya, and Rwanda – with more countries scheduled to go live during 2019.
Liquid Telecom is a trusted partner of Microsoft to drive this strategy forward. The breadth of their fibre network, data centre infrastructure, market reach and expertise enable customers to realise their business objectives more quickly and effectively."