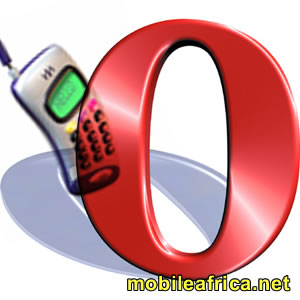 Opera Software ASA has again released its latest State of the Mobile Web report. The report provides information on the top global trends affecting the mobile Web. In addition to the top global trends and country snapshots, the report highlights trends in Africa and aggregate operator data for the top 10 countries.
On a global scale, Opera Mini usage in Nigeria continues to surge, pushing past Poland and taking the #9 spot.
The top 12 countries using Opera Mini in Africa are South Africa, Nigeria, Egypt, Kenya, Libya, Zambia, Tanzania, Cote d'Ivoire, Mozambique, Namibia, Ghana and Gabon.
From April 2008 to April 2009:
Overall page-views in the top 12 countries listed increased 422%.
Overall unique users in the top 12 countries listed increased 169%.
Overall data transferred in the top 12 countries listed increased 348%.
Important milestones
Since the last spotlight on Africa in September 2008, Nigeria jumped from #4 to #2 and Zambia jumped from #9 to #6. Mozambique, Namibia, Ghana and Gabon are new to the spotlight.
Growth rates continue to soar in Africa–especially in Libya, with 4,155% user growth since April 2008, and in Nigeria, with 2,353% user growth since April 2008.
Kenya leads the top 12 countries in page views, with each user browsing 372 pages on average each month.
Operator data trends
Customers of U.S. operators view more data-intensive pages than subscribers in any other country. The average page viewed over U.S. operator networks is approximately 32 KB compressed or almost 320 KB uncompressed.
Operators in the Ukraine were the big winners. Their customers view 582 pages per month, on average. Ukraine operators also sport the highest data transfer per user at more than 10 MB per month compressed. This is as much as 100 MB of mobile data per user uncompressed.
"Opera Mini has helped create and define the mobile Web experience for consumers around the world," said Jon von Tetzchner, CEO, Opera. "Our relentless focus on delivering the best possible mobile Web experience helps drive adoption of mobile data plans. We believe that Opera Mini is the perfect win-win solution for both operators and consumers alike."
About Opera Software ASA
Opera Software ASA has redefined Web browsing for PCs, mobile phones and other networked devices. Opera's cross-platform Web browser technology is renowned for its performance, standards compliance and small size, while giving users a faster, safer and more dynamic online experience. Opera Software is headquartered in Oslo, Norway, with offices around the world. The company is listed on the Oslo Stock Exchange under the ticker symbol OPERA.