Around this time last Friday night, I was well-seated in the Accra International Conference Centre, sipping a "free" coke and waiting for the first screening of  A Sting In A Tale, the latest movie from Sparrow Productions.
After being bombarded with music from 4X4 and VIP which was heavily punctuated by ads from the movie sponsors, Chris Attoh was soon on stage to briefly introduce the movie and the screening began.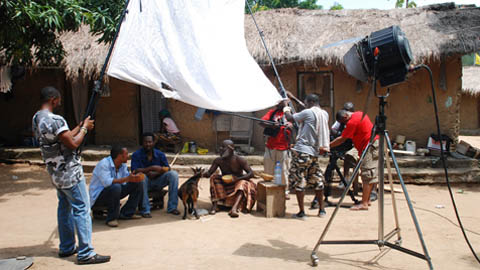 A Sting In A Tale revolves around 3 young people in their quest to survive the rough reality life offered them. They are faced with seeming insurmountable challenges and the movie tells a tell of their struggle, in a captivating style. The drama-filled movie is as unpredictable as it is hilariously funny. The much animated performance from the lead characters was very entertaining. This is a movie that takes you on a roller-coaster ride of varying emotions: from laughter to tears of pity.
Though the conclusion of the story was a bit unrealistic in my view, I would still give the producers a thumbs-up for a job well done.
After the screening, most of the production team and lead characters were called-up to the stage for accolades and photo shots. A few of them shared their experience on the movie production.
This is not the first good movie from Sparrow Productions. The company has maintained its culture of excellence. In an interview with myjoyonline.com, the Director & Executive Producer of the movie, Shirley Frimpong-Manso was quoted as saying:
We like to challenge ourselves and improve on what we do. Every movie, we like to make it different and take it up the notch. We want to take this movie to many places outside Ghana. We want to go to festivals and compete and see how we do. We will correct our mistakes and improve on it and come back bigger and better.
A Sting In A Tale starts showing at Silverbird Cinema (after the première) from tonight Friday 13th November 2009 @ 8:30 PM . I assume it would later be released on VCD though I wished more African movies could be released on DVD so viewers can have access to more behind-the-screen footage, deleted scenes, director's comments and the like.