MTN Ghana recently introduced data packages for its prepaid mobile broadband subscribers.
Hitherto, Ghana's biggest telecommunications company had been offering mobile broadband to its prepaid subscribers without data packages. Subscribers enjoyed a data tariff based on the amount of airtime they loaded to their special data SIMs. Also, MTN subscribers with a normal SIM could enjoy very low tariff rates without needing to subscribe to any data packages.
I got the following text message from MTN Ghana, earlier today:
"Y'ello, enjoy amazing low charges on MTN internet. Dial *138# now and buy internet bundles for as low as GHc 0.03 per mb."
It appears MTN failed to sufficiently communicate the new packages to its mobile broadband subscribers, early enough. Users have lost their airtime because they simply loaded airtime and continued browsing as usual, without actually subscribing to any data packages. Thus they were billed at the very high tariffs that MTN now charges outside the packages.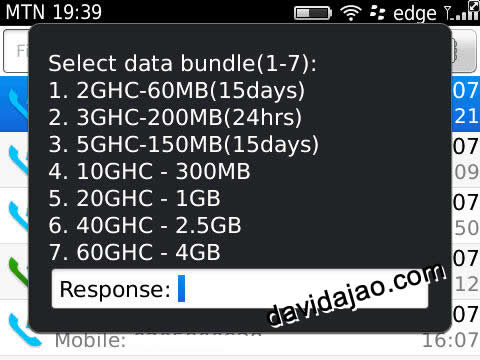 MTN had launched 4 data packages and later added 2 more, offering further flexibility:
"MTN has added two new data bundles to the Bundles Package in response to customers' calls and requests. With the new bundle introduced, you can activate 60 MB for GH 2.00 and 150MB data for GH 5.00 all valid for 15 days.Dial *138# to select a data bundle that suits your needs. MTN data tariffs remain the lowest in the market, so hurry and subscribe to the bundle package that suits your pocket."
A community page has appeared on the social network website Facebook with the sole purpose of pressuring MTN. The page is named: "MTN your new internet charges are too much aba do something about it". I am unable to quote the comments as they tend to be too acidic for this blog.
With the new package scheme, MTN gets to keep the subscription fees whether the customer used the broadband or not unlike the previous scheme where customers were billed only when they actually used the broadband service.