Note: the information I am sharing below is based on my personal experience only. Other BlackBerry users in better circumstances might not experience all or any of the annoyances elucidated in this blog post.
The BlackBerry is a great smartphone, no doubt. Along with the device comes a bouquet of services that keep a user connected, in today's world of electronic communication. However, after 4 months of steady use, there are some annoying aspects to the BlackBerry I consider worth sharing. It might help to know these factors, while making your own decision.
1. Exclusion from BlackBerry App World
Ghana, Nigeria, Kenya and several other countries, are completely denied access to the BlackBerry App World. This is the official marketplace for BlackBerry apps. Since most developers & service providers distribute their apps exclusively through the app store, a lot of BlackBerry users are thus excluded from the use of those apps.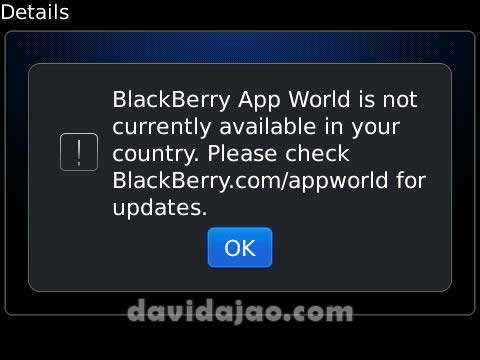 Out of the 91 countries where BlackBerry services are available, only 13 of them have access to paid apps while another 28 have access to free apps. From blackberry.com:
BlackBerry App World Availability
BlackBerry App World is currently available with both paid and free applications in:

United States, Canada, United Kingdom, Ireland, Austria, Germany, Spain, France, Portugal, Luxembourg, Belgium, Netherlands, Italy

BlackBerry App World is currently available with free applications in:

Brazil, Venezuela, Argentina, Chile, Mexico, Colombia, Ecuador, Peru, Panama, Costa Rica, Jamaica, Aruba, Bahamas, Cayman Islands, Barbados, Trinidad & Tobago, Dominican Republic, Hong Kong, Singapore, Indonesia, India, Australia, New Zealand, Honduras, Nicaragua, El Salvador, Paraguay, Uruguay
Of course, there are other BlackBerry app stores but none of them can compare favourably with official BlackBerry App World.
2. Cost & Limitations
The use of BlackBerry Internet Services comes at a fee determined by one's telecom service provider. Mine (MTN Ghana) for example, charges 40 Ghana Cedis (about $28) monthly. While the service is worth paying for, I still think 40 GHc is a little steep, considering the download limitations.
3. Lack of Skype
Skype is my favourite instant messaging service. Though it is fully capable of exceptional audio and video, the poor and expensive bandwidth in my corner of the world makes voice/video impractical most of the time. One is thus limited to the instant messaging functionality.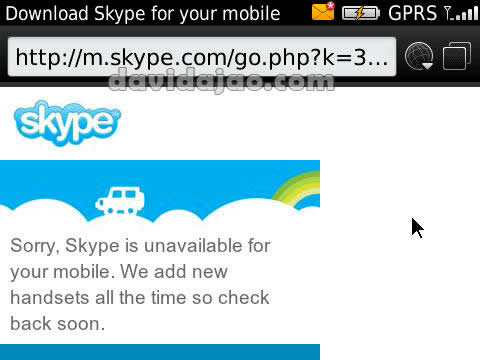 Until recently, Nimbuzz offered Skype messaging to BlackBerry users. Skype however, requested to be taken off Nimbuzz effective 31st October 2010.
I am not keen on making Skype calls from the BlackBerry. The ability to make use of the instant messaging functionality alone had met my needs.
I am aware that BlackBerry users on Verizon Wireless in the United States are able to enjoy full Skype services due to an arrangement between Verizon and Skype. That's the evidence of what's possible.
If most Androids, a lot of Nokia devices and all iPhones can have access to Skype. Why not BlackBerry devices?