I discovered a Google Maps beta feature that had been on my PDA for several months now, just last night. I had only been using my I-Mate JAQ3 as a digital assistant, without using the phone functionality – no thanks to Tigo's network access expiry. Tigo Ghana has a way of disabling one's access to their network after a few weeks of not loading recharge cards. MTN Ghana on the other hand, allows access on their network so long one makes/receives phone calls or SMS every 90 days. I mention Tigo because the My Location feature on Google Maps relies signals from nearby cellular phone towers when you carry out any network activity, to pinpoint your current location.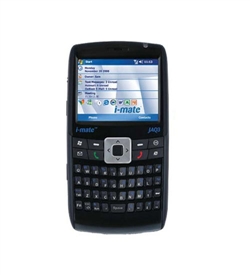 I usually play around Google Maps, using it to explore African cities I am familiar with. I was a little shocked to have seen a blue beacon on the screen of my PDA last night. I could swear that the location the beacon pointed to, was the suburb I lived. Could my PDA – an I-Mate JAQ3 – have come with an in-built GPS without me knowing? I quickly read reviews about I-Mate JAQ3 on the web and confirmed that it indeed did not have an inbuilt GPS. So how can Google tell my location with my device having a GPS receiver? I thought of all the possibilities and finally googled the puzzling question.
It turns out that Google added the My Location feature to their Google Maps for Mobile software, about a year ago. I had always seen My Location on Google Maps but never got to use it since the SIM card in my PDA at that time, was inactive. Recently, I have my MTN Nigeria SIM card in the PDA since I activated international roaming from Nigeria and this made the My Location feature work last night, whilst I was exploring the world on Google Maps.
To be sure this was real, I tested this after church service today. My church building is quite a distance from my residence but Google Maps still pinpointed my new location in Accra. The downside is that Google Maps eats up bandwidth and so one can easily rake up huge bills since the cellular networks (especially in this part of the world) charge so high per KiloByte for internet connection services offered via technologies like GPRS, EDGE, 3G and HSDPA. Another problem is that Google Maps does not include a street map of Accra, Lagos, Ibadan, Lome, Cotonou though I see that they have a street map of Cape Town (a major South African city). I am yet to check other African cities. Therefore, there is little use for Google Maps in West Africa if street maps are unavailable.
Broadly, My Location would be very a useful feature since most of the mobile devices in the market today do not have an inbuilt GPS facility, especially if you are in a developed country where Google Maps has detailed street maps and more detailed satellite images.
Google is not the only player in this industry. A company known has Navizon uses a similar technique to detect one's location with or without GPS. Their system uses Wifi, Phone and of course GPS.