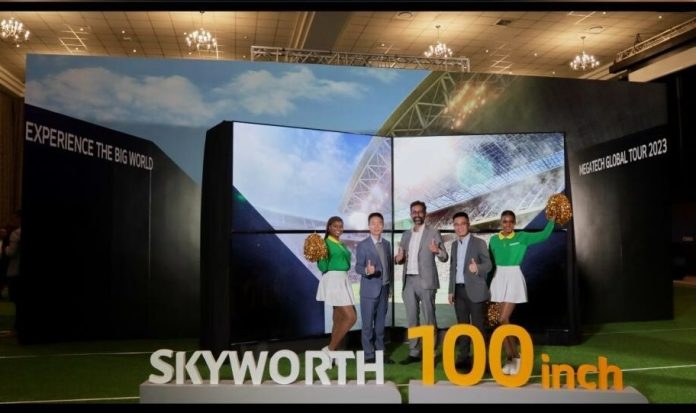 Leading technology brand SKYWORTH, familiar in the South African tech scene for nearly a decade, has unveiled a series of innovative products in their 2023 lineup.
At the recent Megatech Global Tour Launch, the highlight was the introduction of South Africa's premier 100″ 4K QLED Google TV, labelled the SUF958P. This device promises an enhanced viewing experience with its vast colour depth, high contrast display, and a 120Hz refresh rate at 4K resolution. The integrated 2.1.2ch sound and Dolby Atmos complement the visuals, creating an immersive 3D audio experience. The TV also incorporates Flicker-Free technology to protect viewers from potential eye strain.
Rita Mo, SKYWORTH South Africa's GM, expressed confidence in the new range's ability to surpass consumer expectations with its features and overall experience.
For the first time, SKYWORTH has collaborated with Design Works, a subsidiary of the BMW Group, to introduce the BM series. This includes a visually striking OLED TV, a multi-function refrigerator, and two high-performance washing machines, the BM58 & BM55.

Additionally, SKYWORTH's launch also features large-capacity multi-door refrigerators, table fridges, and a variable frequency direct-drive washing machine. Their novel audio system is touted to deliver an outstanding surround sound experience, both with their TVs and as a standalone system.
A notable compact addition is the 24" Portable Google TV, dubbed 'Follow Me'. Ideal for on-the-go usage, it promises four hours of continuous playback, ensuring uninterrupted viewing even during power outages.
The 2023 lineup serves as a testament to SKYWORTH's commitment to technological advancement and innovation in South Africa. Mo highlighted the company's unique position in the local market, pioneering a range of technologies, including borderless screens, Android TVs, and notably, the colossal 100-inch 4K QLED TV.
About SKYWORTH: Founded in 1988, headquartered in Shenzhen's esteemed High Tech Industrial Park, SKYWORTH is a global tech giant. Employing over 40,000 people, its extensive product range spans consumer electronics, digital boxes, network communication, and more. Listed on the HK Stock Exchange since 2000 (HK0751), it is now among the top five global colour TV brands and is a dominant player in China's display market.