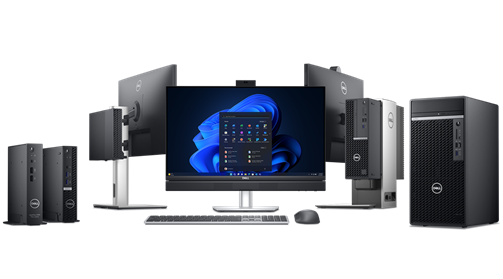 Dell's OptiPlex marks its 30th anniversary with the launch of a new range of desktop computers, designed to simplify customer purchasing and management. A trusted name in commercial desktops, OptiPlex has received positive feedback from nine out of 10 customers regarding ease of deployment, support experience and reliability.
The latest OptiPlex lineup aims to reduce complexity, offering improved performance and intelligence. Desktops featuring Intel® 13th Gen processors will now be available as a single model, rather than segmented by series or model numbers. Customers can easily choose the form factor and features required for their specific needs. The new desktops will also offer streamlined BIOS management, with one BIOS for all-in-ones and one BIOS for tower models, saving valuable IT time.
Dell's OptiPlex computers boast unmatched security, including off-host BIOS verification, indicators of attack, and SafeID, which provides authentication integrity. The company also ensures secure component verification to maintain a safe supply chain.
OptiPlex has committed to sustainable practices, incorporating up to 59.6% post-consumer recycled plastics and a minimum of 10% recycled steel in select chassis designs. This environmentally-friendly approach reduces the brand's carbon footprint.
The new OptiPlex lineup includes a redesigned 24-inch All-in-One with best-in-class performance, audio and video, ergonomic stand options, and low blue light-certified touch and non-touch panels. The OptiPlex Micro offers maximum productivity in an ultra-compact size and features a single cable Type-C power delivery solution. The Small Form Factor desktop has been refreshed to offer a space-conscious design with a variety of performance options and ports. Lastly, the new OptiPlex Tower provides ultimate performance and expansion options without compromise.
The new portfolio also benefits from Intel vPro® platform capabilities, including Intel vPro® Essentials and Intel vPro® Enterprise, as well as AI-enhanced personalised productivity through Dell Optimizer. The OptiPlex family offers hybrid work experiences with integrated product solutions, including worldwide displays and collaboration accessories, custom mounts and stands.
New offerings include all-in-one stand options, Dell collaboration keyboard and mouse, and Dell conferencing displays and cameras with full Windows Hello functionality. Furthermore, all peripherals will work seamlessly together with the peripheral and display manager, powered by the intelligence of Dell Optimizer.