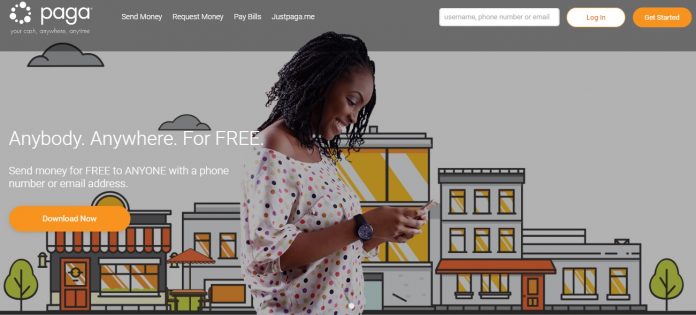 Nigeria's mobile payments firm Paga has received $10 million from the Global Innovation Fund to launch in Ethiopia, Mexico, and the Philippines with its iOS, Android, and USSD apps.
The series B2 investment of $10 million was led by the Global Innovation Fund and participation of Goodwell (managed by Alitheia Capital), Adlevo Capital, Omidyar Network and Unreasonable Capital. This new financing brings the total investment Paga has raised since 2009 to $35 million!
CEO & Founder, Tayo Oviosu said, "At Paga, we are building an ecosystem that enables people to digitally send and receive money, and creating simple financial access for everyone. We do not seek to be a bank, but rather to partner with banks and financial institutions in the markets we operate. We are proud to welcome the Global Innovation Fund as a partner on our journey. We were attracted to them because of their global focus, network to help us achieve our ambition and a clear alignment of values. It is also fantastic that our existing investors remain committed to our strategy and are demonstrating that by their additional investments."
This funding round will further accelerate Paga's growth in Nigeria and also importantly globally as it gears to scale to other countries like Ethiopia, Mexico and the Philippines where the same problem exists.
With a nationwide network of 17,000 agents and more than 9 million users accessing funds in Nigeria, Paga has over 57 million transactions processed worth approximately $3.6 billion and is profitable. The growth financing will enable the firm to further scale in Nigeria to drive the growth of its mobile wallet and agent network, and explore expansion opportunities in other markets where similar problems exist.
The firm recently released its new money transfer app that will drive use of the Paga wallet for person-to-person transfers and in-store payments.
"GIF is proud to lead Paga's Series B2 round," said Alix Peterson Zwane, GIF's CEO. "Paga's mission of helping people 'make life possible" aligns with our core mission of supporting entrepreneurs and innovators that seek to improve the lives of those living on less than $5 per day. I am pleased that GIF will help enable Paga's next phase."
In a country where digital financial services still leave much to be desired, Paga is staking a claim at being the Venmo of Nigeria. With cash still being king in emerging markets, and the general unreliability of POS services coupled with the sparsely located Banks and ATM's, the company has created a viable solution for ease of payments: a simple app that allows you to send money to or request money from anyone only using their phone number or email address and a digital wallet to which you can link any debit card or bank account.