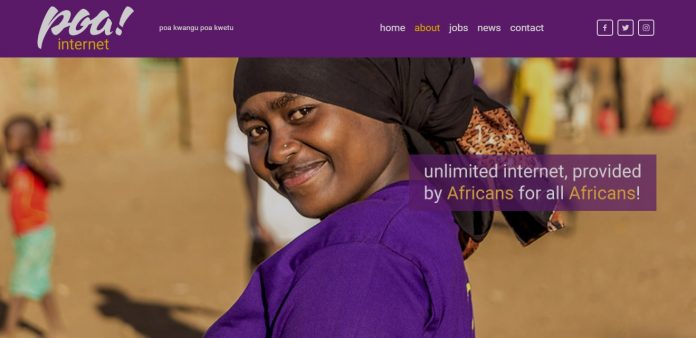 poa! internet, the low-cost internet provider servicing Kibera, Kawangware and Kiambu has said it will compensate its Kawangware home customers with a full week of free and unlimited internet following service interruptions in recent weeks.
The company said the downtime from its main supplier was due to scale and the ISP has moved to a new supplier. The new supplier, which the firm didn't name, will afford it to double its internet speeds and expand its network coverage.
"At the end of September the installation of our second supplier caused a major outage that impacted almost all of Kawangware for many hours, leaving homes without service through the night," said Chris Rhodes, poa! Internet's Chief Operating Officer. "For this reason, and to show our ongoing commitment to our customers, we are crediting all our Kawangware home customers with a week's free unlimited internet to say sorry. These customers will, therefore, see the credit applied to their next month's invoice."
Though there is no clear regulation on consumer refunds on Internet downtime in Kenya, poa! feels it should share that pain with lost revenues through refunds on subscriptions and the full week of the free unlimited internet for its affected customers shows its commitments to great service to its customers.
"Ours is a vision-driven company, working tirelessly to increase Internet access for all and provide our services at the lowest possible prices and in often poorly served areas, across Kenya. That mission ties absolutely with our move to give better consumer rights than others do, in care that extends far beyond our statutory commitments in compensating them for disruptions caused as we improve our service", said Andy Halsall, poa internet! CEO.
With a connection of up to 4Mbps, users can now stream a 720p high-definition video and download a 1GB video in just a few minutes. poa! internet home supports up to devices at a time.