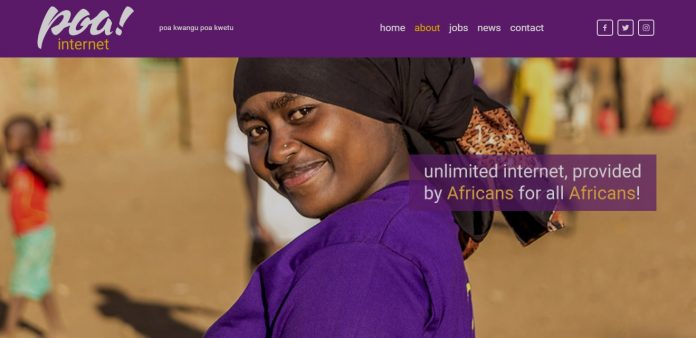 poa! internet, a low-cost community internet service provider in Kenya, has upgraded its home connections in Kiambu county to deliver internet speeds of up to 4Mbps, more than twice the previous speed of its unlimited internet, for the same monthly subscription of Sh1500 (about $15) a month.
Recall that poa! internet recently launched Kenya's first village home internet service, offering unlimited Wi-Fi into homes in a 48 sq km area around Ting'ang'a in Kiambu County.
Unlike other mobile operators and internet providers, poa! internet says it is stripping out unnecessary costs because it does not have huge elaborate headquarters or spend on expensive, market-saturating advertising campaigns. It, therefore, passes these savings onto its customers.
"Doubling speeds to the first wave of our thousands of home customers means that they are enjoying a quality that our competitors are offering for a far higher price; reflecting our continued emphasis on 'no-frills' empowerment for internet users in low income and rural areas," said poa! internet CEO Andy Halsall.
"Our emphasis is on providing the best possible service for the minimum price so that as many people as possible can have their lives and their families' lives transformed by the benefits of accessing unlimited internet. We concentrate on minimizing costs on everything from engineering and deliver, to designing smart sales and marketing operations. Thus, where others have huge marketing and corporate entertainment spends," said poa! COO Chris Rhodes, "we can keep passing the value and savings onto our customers".
The boost comes just three weeks after the ISP launched its first wave of rural networks in Ting'ang'a village, Kiambu County. The company had since launched its service in Kirigiti and has more locations coming online imminently.
"We are continuously building our network to reach rural areas," said Andy. "Meanwhile, in our existing connection areas of Kibera and Kawangware, we are now in the process of upgrading our network to deliver these new speeds and offer outstanding web surfing, emails, social media, (HD) video streaming, music and movie downloads, all at no additional charge to our customers."
With a connection of up to 4Mbps, users can now stream a 720p high-definition video and download a 1GB video in just a few minutes. poa! internet home supports up to devices at a time.