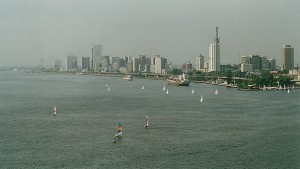 I had to visit home again after a long time away, in October 2004. I had nothing to worry about. It would be like I was still in my country of residence. Armed with my notebook computer, a VISA debit card, few personal effects, and of course, my good old Nokia 7250i, I set off for Ibadan (south west Nigeria), my beloved home town.
Ghana's Spacefon Areeba announced on November 15th 2003, west Africa's first prepaid roaming service. I knew I would use the service sooner than later. I went to thier office at Osu to activate this. Setup was easy. In all, I paid the equivalent of $70. About an hour later, I got a text message: "Dear Subscriber, Your account has been activated. To check the balance of your account PLS dial the balance enquiry number". I got another message: "Your new balance is 40.00 USD. It is valid until 07-Oct-2005.
I decided to travel to Nigeria by road, to experience how the service would be, crossing from Ghana – Togo – Benin Republic – Nigeria. I travelled by ABC Transport, an executive bus service across west Africa. Whilst in Lome (capital of Togo), my phone was still displaying SPACEFON. This is obviously because Aflao, the border town was just a stone throw away, and Spacefon Areeba has its base stations there. I quickly searched for the available networks. Ghana: GH ONETOUCH, GH SPACE, GH MOBITEL and Togo: Togocell, and one other network. I can't recollect its name.
We proceeded with the journey. As soon as we moved further from Ghana, my phone soon was displaying Togocell. I smiled. Receiving calls was effortless. The other folks in the bus were surprised that in the middle of nowhere, I could still use my mobile phone. In Benin republic, my phone displayed: BeninCell. I had set my phone on "Automatic network selection". Consequently, the phone searched for the strongest available network. Since much of the pan-African highway was covered by GSM cellular service, I was in touch, most of the way.
In Benin republic, I decided to call my folks in Nigeria that I was on my way. We soon arrived at the Benin-Nigeria border post. We waited in the bus whilst the bus guide went to process our immigration documents. Soon, I received a text message: " Y'ello and welcome to Nigeria. For more information on Nigeria, please call 15900 for Directory Services. Do enjoy your stay". Guess who the sender was? MTN NIGERIA. I chuckled. Needless to say that I selected MTN throughout my short stay in Nigeria. The text message I received was enough reason for me.
We soon drove into Badagry, and towards Lagos mainland. All along the highway, my phone was displaying the names of the base stations as we went by. Names like: Okokomaiko, Badagry-3, readily comes to mind. Well, I'm in Lagos and had to quickly head off for Ibadan, since it was getting late. In Ibadan, same experience. Seamless connectivity.
One great edge I had was, Spacefon Areeba had interconnectivity agreements with three out of the four mobile networks in Nigeria. In a nutshell, I could select VMobile, MTN Nigeria or Glo mobile. Meaning, in places where one network was unavailable, I could easily switch to another network. People on Nigerian networks can't do this. If you are a VMobile subscriber for example, and you are in a place not covered by VMobile, you were out of touch!
At a glance
I could use any of the three networks: VMobile, Glo mobile, MTN Nigeria.
I could receive text messages sent to my phone number in Ghana.
I could forward all my calls to any phone number in the world. I later bought a Glo mobile prepaid "classic pack" for only N1 and forwarded my calls to the glo line. People in Nigeria could reach me by dialling 0805 224 **** whilst people in Ghana could reach me by simply dialling 024 493 ****. Nothing could be easier.
Downsides
I could not send text messages. I solved this by acqiuring a local mobile line (glo) and forwarded my calls and text messages to it.
Any one trying to reach me within Nigeria would still have to make an International call my dialling my line in Ghana, though I was physically in Nigeria! This is not cost-effective. Same solution. I got a glo mobile line.
I had to pay $2 each time I forwarded my calls to any phone line. I had to do this just once though.
Cost:
Registration: $30
Units: $40
Making calls: $0.50 per 30 seconds
Receiving calls: $0.25 per 30 seconds
In a nutshell, Spacefon Areeba's HOP service is good if you would be leaving Ghana for a short while. You are only in touch during the life cycle of your credit on SNAP. You are disconnected as soon as your prepaid credit on SNAP expires. On the postpaid package however, you are connected as long as your $1500 deposit as carry you.
I enjoyed the rest of my stay in Nigeria. It was virtually like I never left Ghana, as I was constantly in touch, making and receiving calls as usual.