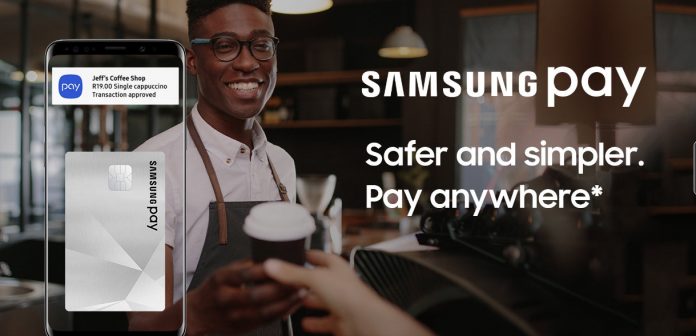 Samsung Electronics announced the launch of its mobile payment service, Samsung Pay in South Africa. Samsung Pay enables users to make mobile payments almost anywhere using both MST and NFC technology.
"Samsung Pay works almost anywhere you can swipe, insert or tap a card, so as the first country in Africa to implement this, we are hugely excited about how it's going to transform our customers' lives", says Craige Fleischer, Vice President of Integrated Mobility for Samsung South Africa. "Samsung Pay is committed to driving the mobile wallet movement in Africa, and this launch furthers Samsung's dedication to delivering innovative services to consumers everywhere," adds Fleischer.
While cash might not be dead, and cards still dominate the payments landscape, the world of contactless payments is evolving faster than ever before. The way consumers make payments is changing faster than any area of financial services, impacted by rapid changes in digital technology, competitive forces and consumer demands.
In South Africa, Samsung Pay is currently available for Absa and Standard Bank customers with supported Mastercard and Visa payment cards. Avios credit cards, British Airways credit cards and Virgin Money cards are also supported. Samsung Pay also supports the ability to load loyalty cards, so it's not just about spending money; it also enables seamless point or miles-gathering.
Ethel Nyembe, Standard Bank SA Head of Card Issuing, says, "We want to make sure that Standard Bank's payment solutions become the preferred choice for digital experiences – whether it be traditional cards, virtual cards, tap to pay, or Samsung Pay. Customers retain their plastic cards, but we are making sure that people who want to go beyond traditional payment methods can now participate in an exciting mobile payments world, which is getting bigger every day."
To start using Samsung Pay, Samsung users should upgrade to the latest software version for their eligible Samsung Galaxy smartphone and simply download the Samsung Pay app from the Google Play store, register or log in to their Samsung account, select a preferred method of verification by fingerprint, iris scan or PIN, scan a debit, credit or cheque card with the camera and verify the card details.
To make payments, users simply launch the Samsung Pay app by swiping up from the home screen or lock screen, authenticate with their iris, fingerprint or PIN, then tap or hold their Samsung device close to the payment terminal. Because Samsung Pay works on both magnetic secure transmissions (MST) and near-field communication (NFC) point of sales terminals, vendors do not need to change their current point of sale machines to accommodate this breakthrough technology.