This blog post is the 2nd & final part in a sequence of blog posts about how to secure your PC the right way.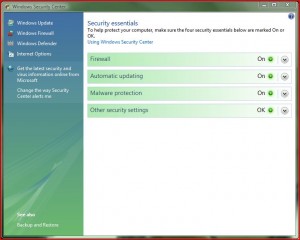 Operating System
By using the acronym "PC" in the title, I am restricting my suggestions to computers running Windows operating systems as they are the most vulnerable to malicious attacks. You can cut the risks of attacks significantly, by simply using any of the common flavours of Linux or Mac operating systems on your computer. These two though very secured and not good candidates for attacks, have their downsides as well. The decision to move away from Windows should be properly thought through and you should be ready to go through a learning curve, to get used to the interface of either of them.
Security suite
Should you decide to stay with Windows operating systems, know that a security suite is a must for your PC. The pricing for an annual license vary widely, and they provide a comprehensive protection for PCs. Actual software components of such suites vary but most of them offer the following:
anti-virus: protects against viruses
anti-malware: protects againsts internet worms, trojan horses and their other cousins
firewall: controls the inbound/outbound to and from your PC and warns you of malicious attempts to intrude your PC
security toolbar for your web browser that warns you of your attempts to visit fake websites
anti-phishing: protects against fake websites
anti-dialer: manages how your PC dials phone numbers
content-filter: usually includes anti-spam, banner ad blocker, parental control
The following security software companies come highly recommended when decide on which software protection to buy:
Free security software
If purchasing a license is not an option for you, there are free alternatives. While I do not know of any free security suite, you can get many of the components for free.
Anti-virus: AVG Free, Avast Home Edition and Avira AntiVir
Firewall: ZoneAlarm Firewall, Windows Firewall (comes with Windows XP and Vista)
Anti-phishing: Google toolbar, AVG toolbar, Yahoo toolbar and many more.
Software update
This is the most important part of your security. I cannot over-emphasize the need to regularly update your operating system, web browser, email client and security software. Without regular updates, even the best security software is potentially useless. The updates essentially download the new features, latest security patches and virus database to keep your PC protected.
If you are using an Internet connectivity solution that bills by data usage, you are better-off finding an alternative means of regularly updating your PC software. Using pay per MB data plans especially GPRS/3G or iBurst can easily rake up your bills when regularly downloading software updates.
Though I had composed the blog post about as month ago on my mobile phone, I found this CNet article yesterday and think it would be a useful supplement to mine: Five simple PC security tips.