Bill Gates wants us to believe that sooner than later, the PC would be the central medium of entertainment in anyone's home. Well, I'd say that is still some years away, at least, going by what is common in our computer/electronics market.
Desktop space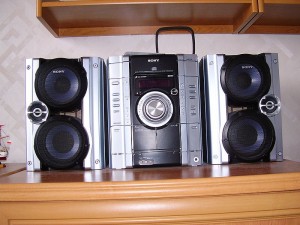 In deciding on purchasing a desktop PC, I'd thought the same PC could serve as a medium of entertainment as well as a workstation, but this is not to be. Can you watch full screen video on your PC while typing that very important Word document? Sure not. On the other hand, you can play video on your TV / HiFi system and take a glance every now and then when you really want to. I do this regularly. 🙂
Audio Quality
Any discerning individual would bear with me that the audio quality that comes with a computer is nowhere comparable to what can be obtained on today's high fidelity (HiFi) systems. Separate home theatres produce far better audio quality.
Well, Bill Gate's Microsoft came out with the PC/TV/HiFi combo, which they christened Media Center system. They run on Microsoft Windows Media Center Edition. On paper, the so-called "Ultimate Home Entertainment System" can do it all at once. They combine your PC, TV, DVD, VCR, stereo and feature Intel Pentium 4 Processor with HT Technology. Well, I am yet to see on of these gizmos here in Africa, and would not pass a verdict on how well they deliver.
Worth mentioning is the separate sub-woofer/super-woofer systems that come with some branded systems. They are also been sold separately at times. The quality they deliver is close, but still not comparable to what can be obtained on a dedicated home audio HiFi system. :s
The bottom line is, it doesn't make sense having a computer for home entertainment, yet. Unless of course, you are a student and need that extra cash for other things, or are content with poor audio and having to wait for your PC to boot / shut down.
Cheers!