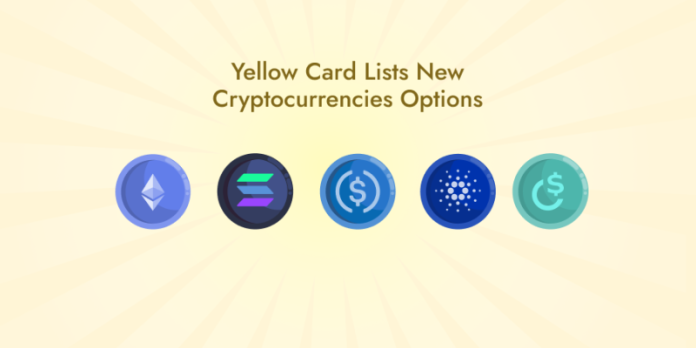 Yellow Card, a leading cryptocurrency exchange platform in Africa, has announced the addition of five new coins to its app, providing customers with a broader range of digital assets to trade and diversify their crypto portfolios. With the new launch, Yellow Card customers can now trade over seven digital assets, including Bitcoin (BTC), Tether (USDT), Ethereum (ETH), USD Coin (USDC), Cardano (ADA), Solana (SOL), and Celo Dollar (cUSD).
Chris Maurice, CEO and co-founder of Yellow Card, expressed the company's commitment to providing customers with the most comprehensive and progressive experience possible. According to Ogochukwu Umeokafor, Director of Product Management at Yellow Card, the addition of the new coins was in response to customers' demand for more coins to trade across Africa.
The new coins provide customers with various benefits, including the freedom to buy and sell various digital assets through the app, seamless portfolio tracking, and easy monitoring of coin prices. Sarah Paterson, Director of Design and User Experience at Yellow Card, stated that the company regularly surveys customers and analyzes trends to choose what coins to feature next, with a core value of being "data-driven."
Yellow Card has provided innovative financial solutions to many Africans across the continent in recent years. In addition to the new coins, the fintech company recently launched Yellow Pay, an innovative payment feature across the continent. With a presence in 16 African countries, Yellow Card aims to continue its mission to make cryptocurrencies accessible to anyone everywhere on the African continent.